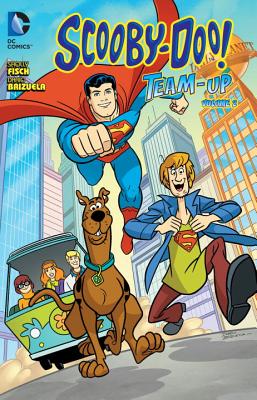 $12.99
Email or call for price.
Description
---
Zoinks! Once Scooby-Doo and the gang are on the case, nothing can get in their way—not even time travel! From the Stone Age to the far future, these tenacious teens (and dog!) are uncovering evildoers one mask at a time.

And back in the present, the Mystery Inc. team and their ghost-busting expertise is in high demand by all the World's Greatest Super-Heroes, kid archaeologists, secret spies and—GULP—infamous jewel thieves?!

Join Scooby and his friends as they team up with the Flintstones, the Jetsons, Superman and more! In SCOOBY-DOO TEAM-UP VOL. 2, writer Sholly Fisch (TEEN TITANS GO!) and artist Dario Brizuela (GREEN LANTERN: THE ANIMATED SERIES) take the gang from the Mystery Machine on their biggest all-ages adventures yet! Collects issues #7-12.
About the Author
---
Sholly Fisch is a writer of screen and page whose past work includes SUPER FRIENDS, and several issues of BRAVE AND THE BOLD, including the story "Night of the Batmen," wherein all the other superheroes dress up in homemade Batman costumes in order to fill-in for the Dark Knight, and "A Batman's Work Is Never Done," which features nothing but short, two-page team-ups with a slew of different heroes.