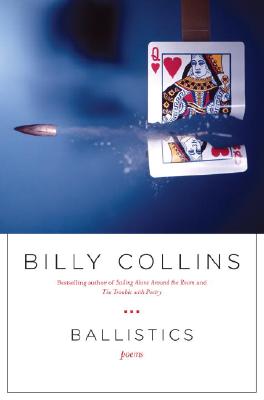 $24.00
Email or call for price.
Spring 2009 Poetry List
---
"I love the self-consciousness and humor Billy Collins brings to poetry. His poems are alive with friendly, kind regard for what-it-means-to-be-human. He's got great talent to craft lines and he does that thing that great poets do, tugging on us, reminding us to appreciate the moment we're in right now. This book was a delight to read and read again."
— Drea Firth, Maria's Bookshop, Durango, CO
Description
---
A Billy Collins poem is instantly recognizable. "Using simple, understandable language," notes USA Today, the two-term U.S. Poet Laureate "captures ordinary life–its pleasure, its discontents, its moments of sadness and of joy." His everyman approach to writing resonates with readers everywhere and generates fans who would otherwise never give a poem a second glance.

Now, in this stunning new collection, Collins touches on a greater array of subjects–love, death, solitude, youth, and aging–delving deeper than ever before. Ballistics comes at the reader full force with moving and playful takes on life. Drawing inspiration from the world around him and from such poetic forebears as Robert Frost, Paul Valéry, and eleventh-century poet Liu Yung, Collins drolly captures the essence of an ordinary afternoon:

All I do these drawn-out days
is sit in my kitchen at Pheasant Ridge
where there are no pheasants to be seen
and, last time I looked, no ridge.

Collins reflects on his solitude:

If I lived across the street from myself
and I was sitting in the dark
on the edge of the bed
at five o'clock in the morning,

I might be wondering what the light
was doing on in my study at this hour.

And he meditates on the effects of love:

It turns everything into a symbol
like a storm that breaks loose
in the final chapter of a long novel.

And it may add sparkle to a morning,
or deepen a night
when the bed is ringed with fire.

As Collins strives to find truth in the smallest detail, readers are given a fascinating, intimate glimpse into the heart and soul of a brilliantly thoughtful man and exemplary poet.
About the Author
---
Billy Collins is the author of eight collections of poetry, including "The Trouble with Poetry," "Nine Horses," "Sailing Alone Around the Room," "Questions About Angels," "The Art of Drowning," and "Picnic, Lightning." He is also the editor of "Poetry 180: A Turning Back to Poetry" and "180 More: Extraordinary Poems for Every Day." A distinguished professor of English at Lehman College of the City University of New York, he was Poet Laureate of the United States from 2001 to 2003 and Poet Laureate of New York State from 2004 to 2006.
Praise For…
---
"Collins reveals the unexpected within the ordinary. He peels back the surface of the humdrum to make the moment new."
–The Christian Science Monitor

"Billy Collins demonstrates why he is one of our best poets, with his appealing trademark style: a self-deprecating charm, playful wit and unexpected imaginative leaps."
–San Antonio Express-News

"By careful observation, Collins spins comic gold from the dross of quotidian suburban life. . . . Chipping away at the surface, he surprises you by scraping to the wood underneath, to some deeper truth."
–Entertainment Weekly

"A poet of plentitude, irony, and Augustan grace."
–The New Yorker

"It is difficult not to be charmed by Collins, and that in itself is a remarkable literary accomplishment."
–The New York Review of Books

"Clever, subtle and engaging."
–Pittsburgh Post-Gazette