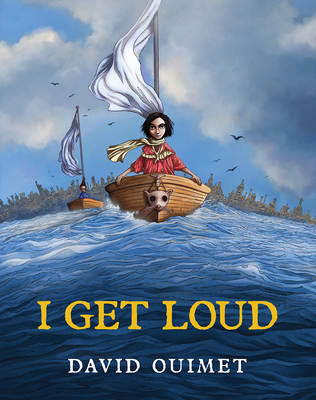 $18.95

Usually Ships in 1-5 Days
Description
---
This stunning successor to Ouimet's debut, I Go Quiet, follows a girl learning to express herself and connect with others.
How do you use your voice, once you've finally found it? A young girl, growing in self-confidence, befriends a stranger who becomes her closest companion. Despite their differences, they speak and sing and laugh, their friendship weathering darkness and light, stormy seas and calm waters. But embarking on an uncertain journey to a new land with thousands of others, the two become separated, and the girl worries that her voice alone is too quiet to find her friend, to make herself known. But their voices lead them back to each other, and each finds their own inner strength. While each voice speaks of a different history, together they can preserve their pasts in their new home. Together they carve out a place in the world with their words.
About the Author
---
David Ouimet is a New York–based artist and musician. He's illustrated several children's books, and I Go Quiet was his debut as author and illustrator. His work has appeared on album covers, and in magazines and newspapers, including the New York Times.