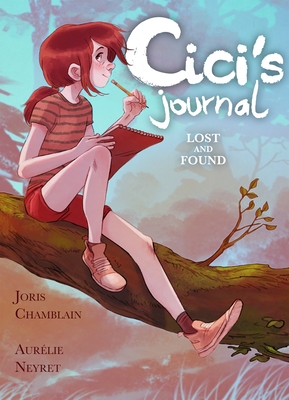 $15.99

Usually Ships in 1-5 Days
Description
---
Everyone has secrets, but no one can hide them from Cici!

As a future writer, Cici knows what questions to ask and where to find the clues she needs to unlock peoples' hearts. Yet even though Cici is great at helping others, for a long time now she has kept a dark and painful secret hidden inside herself.

Cici's friends and mom all want to help her heal, but she keeps pushing them away. Can a treasure hunt, a mysterious mansion, and an epic beachside fight help her to open up at last?
About the Author
---
Joris Chamblain is a French comic writer and author of children's books known in particular for having published, in collaboration with the illustrator Aurélie Neyret, his first comic book series Cici's Journal (Les Carnets de Cerise in French) which won the Youth Prize at the Angoulême International Comics Festival in 2014 and no less than twenty awards. Joris's comics are translated in about fifteen countries.

Aurélie Neyret is an illustrator from Lyon, France. When she was little, she dreamed of living on a boat; collected all sorts of strange and useless things; and loved to hide away and read all night long, to build clubhouses, and—more than anything else—to draw! Today, her approach to life hasn't changed much, and she works hard to bring her projects to fruition. After a brief time at the Émile Cohl school in Lyon, she decided to squirrel away in her secret hideout (location still unknown) so she could develop her style on her own. After that, she worked for La Presse international edition. She created illustrations for various kids' magazines (J'aime Lire, Histoire Junior) and invited readers on an adventure with Les Vacances de Monsieur Rhino (Mister Rhino's Vacation), a children's book written by Raphaël Baud, published by Chocolat. After several graphic novel publications in anthologies, she and Joris Chamblain put together their first book: Les Carnets de Cerise (Cici's Journal), originally published by the Métamorphose imprint of Soleil.
Praise For…
---
"Movingly shows how human life contains more mysteries than any hidden room or secret code."—Kirkus

"The format, a mix of journal and scrapbook, combined with Neyret's ethereal and luminous artwork, will draw in even the most reluctant readers."—School Library Journal