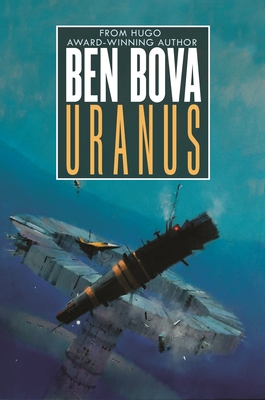 $27.99
Email or call for price
Other Books in Series
This is book number 1 in the Outer Planets Trilogy series.
Description
---
Ben Bova, author of Earth, continues his exploration of the future of a human-settled Solar System with the science fiction action adventure Uranus, the first of his Outer Planets trilogy.

On a privately financed orbital habitat above the planet Uranus, political idealism conflicts with pragmatic, and illegal, methods of financing. Add a scientist who has funding to launch a probe deep into Uranus's ocean depths to search for signs of life, and you have a three-way struggle for control.

Humans can't live on the gas giants, making instead a life in orbit. Kyle Umber, a religious idealist, has built Haven, a sanctuary above the distant planet Uranus. He invites "the tired, the sick, the poor" of Earth to his orbital retreat where men and women can find spiritual peace and refuge from the world.


The billionaire who financed Haven, however, has his own designs: beyond the reach of the laws of the inner planets Haven could become the center for an interplanetary web of narcotics, prostitution, even hunting human prey.



Meanwhile a scientist has gotten funding from the Inner Planets to drop remote probes into the "oceans" of Uranus, in search of life. He brings money and prestige, but he also brings journalists and government oversight to Haven. And they can't have that.
About the Author
---
Ben Bova (1932-2020) was the author of more than a hundred works of science fact and fiction, including Able One, Transhuman, Orion, the Star Quest Trilogy, and the Grand Tour novels, including Titan, winner of John W. Campbell Memorial Award for best novel of the year. His many honors include the Isaac Asimov Memorial Award in 1996, the Lifetime Achievement Award of the Arthur C. Clarke Foundation in 2005, and the Robert A. Heinlein Award "for his outstanding body of work in the field of literature" in 2008.

Dr. Bova was President Emeritus of the National Space Society and a past president of Science Fiction Writers of America, and a former editor of Analog and former fiction editor of Omni. As an editor, he won science fiction's Hugo Award six times. His writings predicted the Space Race of the 1960s, virtual reality, human cloning, the Strategic Defense Initiative (Star Wars), electronic book publishing, and much more.

In addition to his literary achievements, Bova worked for Project Vanguard, America's first artificial satellite program, and for Avco Everett Research Laboratory, the company that created the heat shields for Apollo 11, helping the NASA astronauts land on the moon. He also taught science fiction at Harvard University and at New York City's Hayden Planetarium and worked with such filmmakers as George Lucas and Gene Roddenberry.
Praise For…
---
Praise for Ben Bova

"Bova proves himself equal to the task of showing how adversity can temper character in unforeseen ways." —The New York Times

"[Bova's] excellence at combining hard science with believable characters and an attention-grabbing plot makes him one of the genre's most accessible and entertaining storytellers." —Library Journal