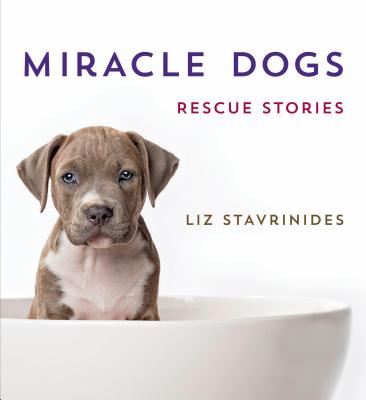 $21.99
Email or call for price.
Description
---
78 million dogs live as pets in the USA. These are the lucky ones. Five to seven million companion animals enter shelters every year, and more than half are euthanized due to the lack of space.
Miracle Dogs celebrates and honors the rescuers and the dogs whose lives they've saved. It features wonderful stories and photographs of dog rescuers, dog trainers, and rescue organizations such as The Gentle Barn and Tamar Geller's Operation Heroes and Hounds, along with celebrity pet owners such as Chevy Chase, Hoda Kotb, Bob Einstein, Amanda Hearst, Jamie Lynn Siegler, and Lance Bass. Each story includes portraits of the dog and its new family, followed by a concise, compelling narrative detailing the dog's journey to its new home.
A professional pet photographer, Liz Stavrinides spends much of her time on projects related to animal rescue. Miracle Dogs was born out of her desire to collect and share the stories of the dogs she's met over the years, showcasing the incredible bravery and compassion of both canines and owners. Readers will be moved by stories like that of Wyatt, an assistance dog who helped a young boy with autism communicate with the outside world, or Fiona, who was found blind and starving and is now in a loving family. All of them have finally found their furever homes. Stavrinides' portraits are heartwarming—a loving and poignant tribute to man's best friend.
About the Author
---
Liz Stavrinides is a critically-acclaimed photographer and author of Miracle Dogs and Extraordinary Dogs. In addition to also photographing people, architecture, and interiors, Liz has particularly combined two of her greatest passions in life—her love for animals and photography—into a meaningful career. Unleashing her creative eye in the studio and on location, Liz exclusively uses FUJIFILM X and GFX Series cameras. Her work has been published and exhibited widely, including Forbes, Modern Dog/Cat Magazine, Coastal Canine, Pebble Beach Magazine, FujiLove and Carmel Magazine.
Praise For…
---
"Miracle Dogs demonstrates a truth that lies at the heart of all rescue stories: That sharing a home with an animal--especially one that's been forgotten and left to the fates--can enrich even the most glamorous and well-lived lives. " —Jim Gorant, New York Times bestselling author of The Lost Dogs

"Each touching vignette captures and radiates the simple, profound and enduring joy of sharing our lives with dogs." —Nick Trout, bestselling author of Tell Me Where It Hurts and Dog Gone, Back Soon

"Miracle Dogs is an uplifting, inspirational collection that will make you want to rescue a dog (or forty). If you have never experienced the undying gratitude and unconditional love of a shelter dog for his new family, take one look at these photos and read these stories. The wagging tails, goofy smiles and furry hugs say it all." —David Rosenfelt, author of Dogtripping

"After finishing Miracle Dogs, I'm still struggling to decide who was rescued by whom. Through masterfully warm photography that accompanies each perfectly pitched rescue story, Liz Stavrinides superbly conveys the dichotomy of the world of canine rescue -- is it the dog or the human custodian who ends up on the rescued end of the leash?" —Steven Wolf, author of Comet's Tale: How the Dog I Rescued Saved My Life

"There has probably been as much written about dogs as any subject on earth, and yet no book has managed to really capture it, until Miracle Dogs. Dogs are beyond words. It's more than the loyalty, unquestioned love, companionship, devotion, innocence, purity of spirit, and boundless joy when you come through the door. It's more than making you feel special when you don't, or curling up next to you when you need to be curled up next to. Miracle Dogs perfectly encapsulates what dogs mean to us, and how we connect to them." —Bill Persky, director, screenwriter, producer, and actor

"[A] heartwarming collection of stories and portraits of 50 amazing dogs and their loving owners...sure to inspire a trip to the local shelter." —Publishers Weekly

" [An] uplifting and inspirational book…essential for dog lovers and those who are active in rescue as well as animal photography fans." —Library Journal

"Beautiful in both concept and presentation. Miracle Dogs is a lovely and loving examination of the human-animal bond." —Best Friends Magazine