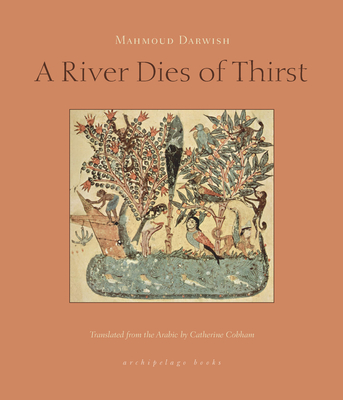 $16.00
Email or call for price.
Description
---
This remarkable collection of poems, meditations, fragments, and journal entries was Mahmoud Darwish's last volume to come out in Arabic. This River is at once lyrical and philosophical, questioning and wise, full of irony, resistance, and play. Darwish's musings on unrest and loss dwell on love and humanity; myth and dream are inseparable from truth. Throughout this personal collection, Darwish returns frequently to his ongoing and often lighthearted conversation with death. A River Dies of Thirst is a collection of quiet revelations, embracing poetry, life, death, love, and the human condition.
About the Author
---
Mahmoud Darwish (1941–2008) was born in the village of al-Birwa, in the Galilee, Palestine. He became a refugee at age seven. He worked as a journalist and editor in Haifa and left to study in Moscow in 1970. His exilic journey took him to Cairo, Beirut, Tunis, Paris, Amman, and Ramallah, where he settled in 1995. He is one of the most celebrated and revered poets in the Arab world. He published more than thirty books, and his poetry has been translated into thirty-five languages. Darwish was named a Knight of the Order of Arts and Letters by France in 1993, was awarded the Lannan Cultural Freedom Prize in 2001, the Prince Claus Award in 2004, and the Cairo Prize for Arabic Poetry in 2007. Catherine Cobham teaches Arabic language and literature at St. Andrews University in Scotland and has translated a number of contemporary authors from the Arabic, including Naguib Mahfouz, Hanan al-Shaykh, and Fu'ad al-Takarli.
Praise For…
---
Darwish is the premier poetic voice of the Palestinian people . . . lyrical, imagistic, plaintive, haunting, always passionate, and elegant – and never anything less than free – what he would dream for all his people. —Naomi Shihab Nye

Mahmoud Darwish is one of the greatest poets of our time. In his poetry Palestine becomes the map of the human soul. —Elias Khoury

There are two maps of Palestine that politicians will never manage to forfeit: the one kept in the memories of Palestinian refugees, andthat which is drawn by Darwish's poetry. —Anton Shammas

I want to find a language that transforms language itself into steel for the spirit – a language to use against these sparkling silver insects, these jets. I want to sing. I want a language . . . that asks me to bear witness and that I can ask to bear witness, to what power there is in us to overcome this cosmic isolation. —Mahmoud Darwish

Many people in the Arab world feel their language is in crisis. And it is no exaggeration to say that Mahmoud is considered a savior of the Arab language. —Syrian poetry critic Subhi Hadidi, cited by Adam Schatz, The New York Times

Darwish left behind an entire continent of poems whispering and singing inside Arabic and calling on us to reacquaint ourselves with its topography. —Sinan Antoon