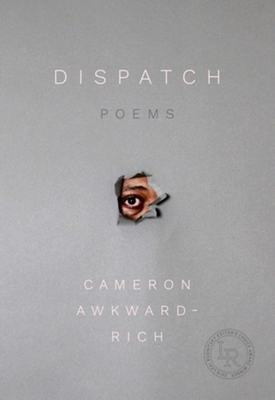 $15.95

Usually Ships in 1-5 Days
Description
---
Winner of the 2018 Lexi Rudnitsky Editor's Choice Award, Cameron Awkward-Rich's intimate second book of poems attempts to reckon with and withstand American violence.
Set against the media environment that saturates even our most intimate spaces, Dispatch attends to, revises, and thinks adjacent to the news of racial/gendered violence in the US, from the nineteenth century to the present day. These poems ask:
What kind of revisions will make this a world/a story that is concerned with my people's flourishing? How ought I pay attention, how to register perpetual bad news without letting it fatally intrude?
Cameron Awkward-Rich is among the most bracing voices to emerge in recent years, a dazzling exemplar of poetry's (and humanity's) possibilities.
Praise For…
---
... Awkward-Rich's terse yet beguiling lyric articulates what it is to
inhabit a particular body at a particular time in history, and, in the
shadow of violence, to seek—or resist—openness.
— The New Yorker

Weighed down by the 'brutal choreography' of violence against black, queer, and trans bodies, the poet reestablishes buoyancy through will and formidable artistry... in these poems of bracing clarity, national violence is unflinchingly and meaningfully confronted. 
— Publishers Weekly

Awkward-Rich seeks his own differentiation, recognition, the perhaps impossible goal of feeling truly seen for your whole self. 
— Stephanie Burt - Los Angeles Review of Books

The poems in Awkward-Rich's second collection speak with poised urgency out of profound, enduring fear imposed by impossibly huge forces… and steady themselves, when steadiness seems possible, on the fact of an undiminishable self beyond language. 
— American Poets

Awkward-Rich also grounds and interrogates corporal experience through a variety of poetic forms… [he] imagines building a world inside your body full of the people you love that have been taken from you, the beauty that you can find there.
— Columbia Journal

Such
profoundly personal narration in debuts has been done—and will be done again—but
Awkward-Rich's rawness and dexterity in conveying complex issues push his verse
beyond stereotypes.
— Publishers Weekly on "Sympathetic Little Monster"