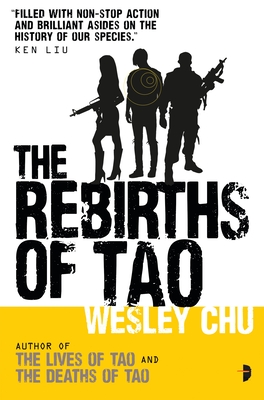 $7.99
Email or call for price
Other Books in Series
This is book number 3 in the Tao Series series.
Description
---
The centuries-long alien conflict threatens to plunge the whole planet into a new World War—and only Roen can stop it—in this funny and action-packed series finale
 
Five years have passed since the events in The Deaths of Tao. The world is split into pro-Prophus and pro-Genjix factions and is poised on the edge of a devastating new World War. A Gengix scientist who defects to the other side holds the key to preventing bloodshed on an almost unimaginable scale.

With the might of the Gengix in active pursuit, Roen is the only person who can help him save the world—and the Quasing race, too. And you thought you were having a stressful day . . .
About the Author
---
Wesley Chu was born in Taiwan and immigrated to Chicago, Illinois when he was just a pup. It was there he became a Kung Fu master and gymnast. Wesley is an avid gamer and a contributing writer for the magazine Famous Monsters of Filmland. A former stunt man and a member of the SAG, he can also be seen in film and television playing roles such as "Banzai Chef" in Fred Claus and putting out Oscar worthy performances as a bank teller in Chicago Blackhawks commercials.

Wes spends his time writing and hanging out with his wife Paula Kim and their Airedale Terrier, Eva.

Wesley is a 2014 nominee for the John W. Campbell Award for Best New Writer.
Praise For…
---
"Wesley Chu is my hero… he has to be the coolest science fiction writer in the world."
– Lavie Tidhar, World Fantasy Award winning author of Osama


"Pure pleasure from beginning to end. Highly recommended!"
– Ann Vandermeer, Hugo winning editor of Weird Tales and British Fantasy Award winning publisher of Buzzcity Press

"The Rebirths of Tao is a suitably epic trilogy-capper in both scope and scale. This time, the battlefield is the whole world, with Roen once again at the center of things. If the first book is an action-adventure and the second a political thriller, the conclusion is something approaching dystopian guerrilla warfare. It still has that snarky sense of humor and the same frenetic action, but the focus has changed. In fact, it's a book that explores change more than anything else."
– Barnes & Noble

"I should also note that not only is The Rebirths of Tao jam-packed with action and espionage, it's hilarious to boot. Chu has a great sense of humour and uses it to great effect in both breaking tension and entertaining his audience. The Rebirths of Tao brings a close to a very rich trilogy.""
– Every Read Thing

"Every time I identify a geek who I think would appreciate a James Bond spy novel with a b-movie alien twist and a healthy amount of Star Wars references, I do everything I can to make sure they read this series."
–  Geeky Library

"This third book was everything I'd hoped for, a wonderful end to a trilogy that has been a wildly entertaining ride from the get go. It's funny, action-filled, and manages to tie up all the loose ends that count, while still leaving things open-ended enough for future stories set in this universe."
– The Bibliosanctum

"There's nothing better than a favorite series ending on a high note, and I'm happy to report that The Rebirths of Tao has accomplished just that. For those of you who have started reading the Tao books, you are in for a treat. And for those of you who haven't, well now you have a great excuse to binge read the whole thing at once!"
– Book, Bones & Buffy

"This trilogy of books has been a rising curve all the way – The Lives of Tao made a spectacular entrance, The Deaths of Tao was brimming with awesome alien action, and, now,  The Rebirths of Tao provides epic climax and wrap-up without disappointment."
– I, Fat Robot

"Happily, this is a great end to the series. It's concrete and doesn't really leave any loose ends, but somehow also manages to leave just enough open in case Chu ever decides to continue on. This is probably one of the best books I read of the year so far, and the whole Tao trilogy has a prized spot on my shelf, just waiting to be re-read."
– Sarah Says Read

"Rebirths of Tao is the perfect closure of the trilogy, also because, as it should, expands the action and takes it on a wider setting, whilst still preserving the essential characters – humour, strong writing, adventure and intrigue – that have made the other two such as a good reading."
– The Earthian Hivemind

"I thoroughly enjoyed this book. I couldn't put it down and from the very first page, I felt like I had never left Roen and Tao for a minute. This is one of my favourite series of recent years, providing a nice blend of science fiction, spy thriller and comedy that I have yet to find anywhere else."
– Fantasy Faction

"What is the best thing about Wesley Chu?  He makes reading a story about a parasitic alien race plotting to terraform the earth funny and riveting…I loved it.  Every single moment of it. No one, and I do mean no one, wants to see this series end."
– Bookish

"A really solid novel, a satisfying conclusion — making the Tao trilogy a keeper. I'm very much looking forward to what Chu's got in store next."
– The Irresponsible Reader

"Chu reminds me a lot of John Scalzi.  His military and political sci-fi is littered with witty dialogue, endearing characters, and a cause worth fighting for."
– Serial Bookseller

"The relationships forged between characters felt meaningful, there was a lot of laugh-out-loud humour, the action set pieces were fantastic, the way in which the actions of the characters contributed overall to the war were observable and tangible, and it was just a lot of fun."
– Fantasy Book Review

"The Rebirths of Tao keeps the crisp action of the earlier books in the series, and brings the story to its well-crafted conclusion."
– Cowering King