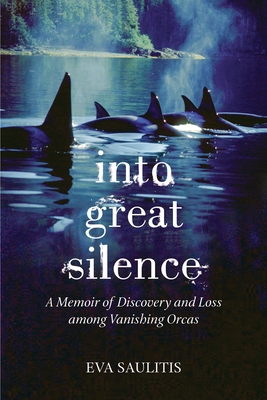 $18.00

Usually Ships in 1-5 Days
Description
---
Science entwines with matters of the human heart as a whale researcher chronicles the lives of an endangered family of orcas
 
Ever since Eva Saulitis began her whale research in Alaska in the 1980s, she has been drawn deeply into the lives of a single extended family of endangered orcas struggling to survive in Prince William Sound. Over the course of a decades-long career spent observing and studying these whales, and eventually coming to know them as individuals, she has, sadly, witnessed the devastation wrought by the Exxon Valdez oil spill of 1989—after which not a single calf has been born to the group. With the intellectual rigor of a scientist and the heart of a poet, Saulitis gives voice to these vital yet vanishing survivors and the place they are so loyal to. Both an elegy for one orca family and a celebration of the entire species, Into Great Silence is a moving portrait of the interconnectedness of humans with animals and place—and of the responsibility we have to protect them.
About the Author
---
Eva Saulitis has studied whales in Prince William Sound, the Kenai Fjords, and Alaska's Aleutian Islands for the past twenty-four years. In addition to her scientific publications, her essays, poems, and reviews have appeared in numerous national journals, including Orion, Crazyhorse, and Prairie Schooner. The author of the essay collection Leaving Resurrection and the poetry collection Many Ways to Say It, she teaches at Kenai Peninsula College, in the low-residency MFA program at the University of Alaska, and at the Kachemak Bay Writers' Conference. She lives in Homer, Alaska.
Praise For…
---
"Beginning in the halcyon years before the Exxon Valdez oil spill and continuing to this day, Saulitis has tracked individually known orcas to the brink of their population's extinction. Into Great Silence is at once a love song to a wild place, an elegy, an inquiry into purpose and change, and a call to bring all our senses and ways of knowing to understanding and protecting our fragile world."
—Pushcart Prize-winning author Nancy Lord

"A vivid, moving depiction of a way of life tragically becoming increasingly endangered."
—Kirkus Reviews

"There's great tenderness in this book, and great pathos--sometimes one wonders if it's worth the pain to pay attention amidst the gathering storm, but this powerful account shows us that it's precisely by keeping track of the world around us that we stay human." 
—Bill McKibben, author of Eaarth: Making  a Life on a Tough New Planet

"Through Saulitis's growing understanding of biology, and through her heart, we soon find ourselves immersed in the fate of the third culture -- Prince William Sound's  intensely social, long-lived, black-and-white whales with brains considerably larger than ours. Fascinating suddenly becomes too cramped a word for either orcas or this book of self-discovery."
—Douglas Chadwick, author of The Grandest of Lives: Eye to Eye with Whales 

"[A] sensitively written  memoir...Readers who enjoyed Alexandra Morton's Listening to Whales: What the Orcas Have Taught Us will be fascinated by Saulitis' account of her often remove, cold, and wet life as a field biologist and her respect for the whales and the people who lived around her."
—Library Journal

"Saulitis' stunning and sorrowful "book of contemplation" elucidates the discipline, tedium, danger,and bliss of whale studies; the solace she finds in art; and her intense relationships with her fellow orcaexperts. Candid, transfixing, and cautionary, Saulitis celebrates and mourns for a wondrous and imperiled species."
—Booklist

"The book is a must read—at once a visceral reminder of the fragility of our ancient planet, a requiem for its rapidly diminishing nature and a call to arms."
—American Scientist