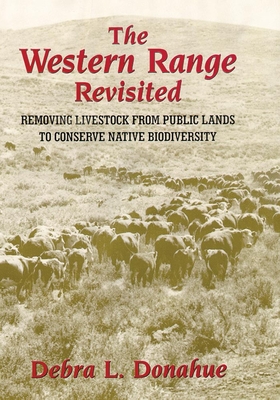 Email or call for price and availability
Description
---
Livestock grazing is the most widespread commercial use of federal public lands. The image of a herd grazing on Bureau of Land Management or U.S. Forest Service lands is so traditional that many view this use as central to the history and culture of the West. Yet the grazing program costs far more to administer than it generates in revenues, and grazing affects all other uses of public lands, causing potentially irreversible damage to native wildlife and vegetation.
The Western Range Revisited proposes a landscape-level strategy for conserving native biological diversity on federal rangelands, a strategy based chiefly on removing livestock from large tracts of arid BLM lands in ten western states: Arizona, California, Colorado, Idaho, Nevada, New Mexico, Oregon, Utah, Washington, Wyoming.
Drawing from range ecology, conservation biology, law, and economics, Debra L. Donahue examines the history of federal grazing policy and the current debate on federal multiple-use, sustained-yield policies and changing priorities for our public lands. Donahue, a lawyer and wildlife biologist, uses existing laws and regulations, historical documents, economic statistics, and current scientific thinking to make a strong case for a land-management strategy that has been, until now, unthinkable.
A groundbreaking interdisciplinary work, The Western Range Revisited demonstrates that conserving biodiversity by eliminating or reducing livestock grazing makes economic sense, is ecologically expedient, and can be achieved under current law.