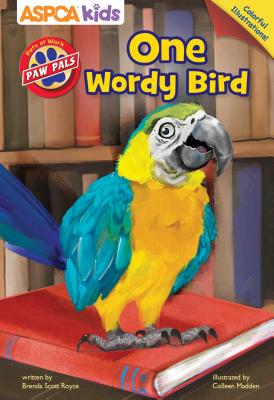 Email or call for price and availability
Description
---
Join the members of Project PAW (Pets At Work) in another paw-some adventure!

The members of Project PAW (Pets At Work)—Meg, Amanda, Blanca, and Drew—are busy spreading the word about the amazing abilities of working animals! After Meg and her seizure-response dog, Chance, deliver a presentation at the local library, the group learns that kids who have difficulty reading show more confidence when reading to a pet. Project PAW is determined to find a shelter dog that could become a reading companion for the library, but what if their best pick for pet isn't the furry friend they imagined? Find out in this illustrated chapter book fit for pet lovers!
About the Author
---
Brenda Scott Royce is a lifelong lover of beasts and books—and whenever possible her work combines the two. She's served as editor of Zoo View, the award-winning magazine of the Los Angeles Zoo, for more than a decade. Her children's books include two titles in the ASPCA's Pet Rescue Club series— Champion's New Shoes and Bailey the Wonder Dog. Her award-winning comedic novels Monkey Love and Monkey Star chronicle the misadventures of Holly Heckerling, a stand-up comedienne who befriends a monkey while juggling career and romantic entanglements. Brenda likes to say that she majored in monkeys in college (she earned a bachelor's degree in primatology and anthropology from California State University, Fullerton) and that some of her best friends are chimpanzees (she worked as a chimp keeper at a wildlife sanctuary). She lives in Glendora, California.

The fourth girl in a family of eight children, Colleen Madden made it through childhood pretending to be a space princess with a wookie sidekick and drawing in her cardboard box art studio. Colleen spent some time acting and training at The Second City in Chicago, and then went on to graduate from a small liberal arts school in Massachusetts, with a major in illustration and English literature. She currently resides in the Philadelphia area with her writer-husband and their two sons. She has illustrated for many different kinds of clients and is the recipient of an International Greeting Card Louie Award. When not illustrating, Colleen can be found long-distance running, making her boys giggle, and eating lots and lots of sushi.