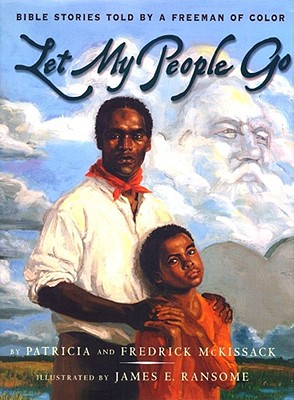 $27.99
Email or call for price.
Description
---
"Come join me as I take you back to Charleston, South Carolina, to my father's forge in the early 1800's. Sit with me on the woodpile as he tells a tale of faith, hope, or love."
In this extraordinary collection, Charlotte Jefferies and her father Price, a former slave, introduce us to twelve best loved Bible tales, from Genesis to Daniel, and reveal their significance in the lives of African Americans--and indeed of all oppressed peoples.
When Charlotte wants to understand the cruel injustices of her time, she turns to her father. Does the powerful slaveholder, Mr. Sam Riley, who seems to own all that surrounds them, also own the sun and moon? she wonders. Price's answer is to tell the story of Creation. How can God allow an evil like slavery to exist? she asks. Price responds by telling the story of the Hebrews' Exodus -- and shows Charlotte that someday their people, too, will be free.
With exquisite clarity, Patricia and Fredrick McKissack and James Ransome -- a Newbery Honor winner and all Coretta Scott King Award winners -- brilliantly illuminate the parallels between the stories of the Jews and African-American history. Let My People Go is a triumphant celebration of both the human spirit and the enduring power of story as a source of strength.
Our hope is that this book will be like a lighthouse that can guide young readers through good times and bad....The ideas that these ancient stories hold are not for one people, at one time, in one place. They are for all of us, for all times, everywhere.
--from the Authors' Note to Let My People Go
About the Author
---
Patricia C. McKissack is the author of many highly acclaimed books for children, including Goin' Someplace Special, a Coretta Scott King Award winner; The Honest-to-Goodness Truth; Let My People Go, written with her husband, Fredrick, and recipient of the NAACP Image Award; The Dark-Thirty, a Newbery Honor Book and Coretta Scott King Award winner; and Mirandy and Brother Wind, recipient of the Caldecott Medal and a Coretta Scott King Honor Book. She lives in St. Louis, Missouri.

Fredrick McKissack has nearly twenty years experience as a writer and an editor. His articles, op-eds, and reviews have been published in The Washington Post, Vibe magazine, and others. He lives in Fort Wayne, Indiana, with his wife, Lisa, and their son, Mark.

James E. Ransome's highly acclaimed illustrations for The Bell Rang, which he also authored, received the 2020 Coretta Scott King Illustrator Honor. His other award-winning titles include the Coretta Scott King winner The Creation; Coretta Scott King Honor Book Uncle Jed's Barbershop; Sweet Clara and the Freedom Quilt; Before She Was Harriet, and Let My People Go, winner of the NAACP Image Award. He frequently collaborates with his wife, author Lesa Cline-Ransome. One of their recent titles is Game Changers: The Story of Venus and Serena Williams, which received four starred reviews and was an ALA Notable Children's Book. He lives in New York's Hudson River Valley region with his family. Visit James at JamesRansome.com.