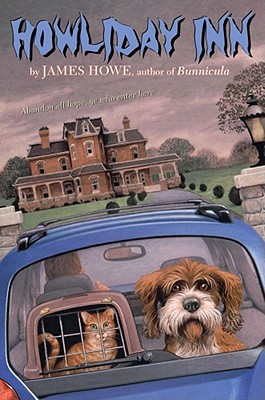 $19.99
Email or call for price.
Other Books in Series
This is book number 1 in the Bunnicula and Friends series.
Description
---
Harold and Chester could hardly believe it. The Monroe family was going on vacation without them. Bunnicula, the family rabbit, would be boarded with a neighbor. But they, the family's loyal dog and cat, were to be sent away with strangers; they were to spend a week at Chateau Bow-Wow.
Chateau Bow-Wow, observed Chester, soon after they arrived, could more properly be called Howliday Inn. Though what was howling, neither of them knew. Chester had his suspicions however; only a werewolf could make that chilling sound.
About the Author
---
James Howe is the author of more than ninety books for young readers. Bunnicula, coauthored by his late wife Deborah and published in 1979, is considered a modern classic of children's literature. The author has written six highly popular sequels, along with the spinoff series Tales from the House of Bunnicula and Bunnicula and Friends. Among his other books are picture books such as Horace and Morris but Mostly Dolores and beginning reader series that include the Pinky and Rex and Houndsley and Catina books. He has also written for older readers. The Misfits, published in 2001, inspired the nationwide antibullying initiative No Name-Calling Week, as well as three sequels, Totally Joe, Addie on the Inside, and Also Known as Elvis. A common theme in James Howe's books from preschool through teens is the acceptance of difference and being true to oneself. Visit him online at JamesHowe.com.

Lynn Munsinger was born in Massachusetts. She has illustrated more than ninety books for children -- bringing Wodney Wat, Tacky the Penguin, a porcupine named Fluffy, the Teeny Tiny Ghost, and Ogden Nash's Custard the Dragon to charming life. Her watercolor illustrations have been praised for their "classic quality" (Publishers Weekly) and "mix of wry humor and affection" (Booklist).