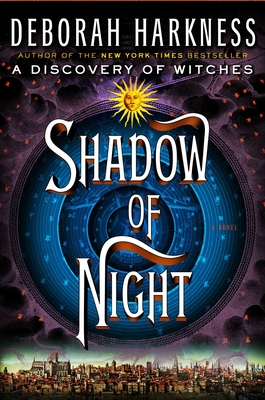 $28.95
Usually Ships in 1-5 Days
Other Books in Series
This is book number 2 in the All Souls Series series.
July 2012 Indie Next List
---
"How fantastic to find a second book that is every bit as compelling as the first. Harkness follows up A Discovery of Witches with a tale that moves confidently around Europe at the turn of the 16th century, and has readers mingling with Marlow, Shakespeare, John Dee, Raleigh, and, of course, Elizabeth I. Espionage and intrigue tangle with magic, mythology, and religion, while hints at who may become important players in the final book of this planned trilogy left me in happy anticipation of much more intelligent entertainment to come."
— Nicola Rooney, Nicola's Books, Ann Arbor, MI
Description
---
The #1 New York Times–bestselling sequel to A Discovery of Witches, book two of the All Souls Series—"as enchanting, engrossing, and impossible to put down as its predecessor" (Miami Herald).
 
Look for the hit TV series "A Discovery of Witches" airing on AMC and BBC America, and streaming on Sundance Now and Shudder.
J. K. Rowling, Stephenie Meyer, Anne Rice—only a few writers capture the imagination the way that Deborah Harkness has with her New York Times–bestselling All Souls trilogy. A Discovery of Witches introduces reluctant witch Diana Bishop, vampire geneticist Matthew Clairmont, and the battle for a lost, enchanted manuscript known as Ashmole 782.

Picking up from A Discovery of Witches' cliffhanger ending, Shadow of Night takes Diana and Matthew on a trip through time to Elizabethan London, where they are plunged into a world of spies, magic, and a coterie of Matthew's old friends, the School of Night. As the search for Ashmole 782 deepens and Diana seeks out a witch to tutor her in magic, the net of Matthew's past tightens around them, and they embark on a very different—and vastly more dangerous—journey.
About the Author
---
Deborah Harkness made her fiction debut with book one of the All Souls trilogy, A Discovery of Witches, which was a New York Times bestseller and has been translated into more than thirty languages. A professor of history at the University of Southern California, Harkness has received Fulbright, Guggenheim, and National Humanities Center fellowships, and her most recent scholarly work is The Jewel House: Elizabethan London and the Scientific Revolution.
Praise For…
---
Praise for Shadow of Night
"A captivating and romantic ripping yarn."
—E. L. James, "Books of the Year 2012: Authors Choose Their Favourites," The Guardian
"The joy that Harkness, herself a historian, takes in visiting the past is evident on every page. . . . A great spell, the one that can enchant a reader and make a 600-page book fly through her fingertips, is cast. . . . Its enduring rewards are plenty."
—Entertainment Weekly
"Fans of Harkness's 2011 debut
A Discovery of Witches
will be delighted. . . . Harkness delivers enough romance and excitement to keep the pages turning. Readers will devour it."
—People
"Deborah Harkness takes us places we've never been before. . . .
Shadow of Night
isn't just about wonderfully detailed descriptions of England in 1591, it's about being there. Readers time-travel as precisely and precariously as Diana and Matthew do. . . .
Shadow
ends as
Discovery
did with promises of more to come. Lucky for us."
—USA Today
"Harkness exudes her own style of magic in making the world of late 16th century England come alive. . . . Enchanting, engrossing and as impossible to put down as its predecessor,
Shadow of Night
is a perfect blend of fantasy, history and romance. Its single greatest flaw is, after almost 600 pages, it's over. If you've already read and enjoyed
A Discovery of Witches
, picking up
Shadow of Night
is an absolute requirement. Otherwise, pick up both, and consider your reading list complete."
—Miami Herald
"Picking up where she left off in last year's
A Discovery of Witches
, Harkness proves she's not suffering from a sophomore slump with this addictive tale of magic, mayhem and two lovers."
—
Chicago Tribune
"Rich, period fun, particularly delightful in its witty characterization of historical immortals . . .
Shadow
ramps up the supernatural suspense."
—New York Daily News
"This novel is as much a love story about a bygone era as it is about Matthew and Diana. It overflows with a colorful cast of characters, many of whom Harkness has plucked straight from the history books, and Harkness renders the late 1500s in exquisite detail. . . . The writing is so rich, the characters so compelling . . . and best of all, Harkness manages to execute with aplomb the act of answering old questions while posing new ones that will intensify anticipation for the final installment. Readers who have been counting down the days, take heart: The wait was most assuredly worth it."
—BookPage
Praise for
A Discovery of Witches
:
  
"A wonderfully imaginative grown-up fantasy with all the magic of Harry Potter or Twilight. . . . An irresistible tale of wizardry, science and forbidden love."
—People
  
 
"Romantic, erudite, and suspenseful . . . Harkness attends to every scholarly and emotional detail with whimsy, sensuality, and humor."
—O, The Oprah Magazine
  
 
"A thoroughly grown-up novel packed with gorgeous historical detail and a gutsy, brainy heroine to match. . . . Harkness writes with thrilling gusto about the magical world."
—Karen Valby, Entertainment Weekly
"Harkness conjures up a scintillating paranormal story. . . . Discover why everyone's talking about this magical book."
—USA Today
"Delightfully well-crafted and enchantingly imaginative . . . It has some of the same ineluctable atmosphere that made Anne Rice's vampire books such a popular success."
—Miami Herald
"A debut novel with a big supernatural canvas . . . Its ambitions are world-sized, ranging across history and zeroing in on DNA, human and otherwordly. Age-old tensions between science and magic and between evolution and alchemy erupt as Diana seeks to unlock the secrets of Ashmole 782."
—Los Angeles Times
   
  
"Harkness, an eloquent writer, conjures this world of witches with Ivy League degrees and supernatural creatures completely—and believably—while maintaining a sense of wonder. . . . A Discovery of Witches is that rare historical novel that manages to be as intelligent as it is romantic. And it is supernatural fiction that those of us who usually prefer to stay grounded in reality can get caught up in. Pardon the pun, but Witches is truly spellbinding."
—San Antonio News-Express
"Readers who thrilled to Elizabeth Kostova's 2005 blockbuster, The Historian, will note the parallels, but A Discovery of Witches is a modern Romeo and Juliet story, with older, wiser lovers. Blood will flow when a witch and a vampire fall for each other. Author Deborah Harkness, a UCLA history professor, brings vast knowledge and research to the page."
—Cleveland Plain-Dealer
  
 
"Harkness works her own form of literary alchemy by deftly blending fantasy, romance, history, and horror into one completely bewitching book."
—Chicago Tribune
"A Discovery of Witches becomes increasingly charming as it goes along. . . . A shrewdly written romp and a satisfying snow-day read for those of us who heartily enjoyed the likes of Anne Rice and Marion Zimmer Bradley. By the book's rousing end . . . I was impatient for the sequel."
—NPR
"A captivating tale that will ensnare the heart and imagination of even the most skeptical reader. This fantastic first novel will leave you anxious for the next installment, and sad to leave the remarkable world Harkness has created. Simply put, A Discovery of Witches is literary magic at its most potent."
—Stephanie Harrison, BookPage
 
 

"Set in our contemporary world with a magical twist, this sparkling debut by a history professor features a large cast of fascinating characters, and readers will find themselves invested in Diana's success at unlocking the secrets of the manuscript. . . . Harkness is an author to watch." —Library Journal (starred review)
 
 
"Harkness creates a compelling and sweeping tale that moves from Oxford to Paris to upstate New York and into both Diana and Matthew's complex families and histories. All her characters are fully fleshed and unique."
—Booklist (starred review)
"Harkness brings this world to vibrant life and makes the most of the growing popularity of gothic adventure with an ending that keeps the Old Lodge door wide open."
—Publishers Weekly
"A Discovery of Witches is a strange and wonderful novel of forbidden love and ancient spells that turns every preconception about magic on its head. Deborah Harkness has written one of the most exciting novels I've read in years. . . . I fell in love with it from the very first page." —Danielle Trussoni, author of Angelology
"Deborah Harkness's novel is a brilliant synthesis of magic and history. A gripping story of dangerous passion, intellectual intrigue, and fantastical beings." —Ivy Pochoda, author of The Art of Disappearing
 
"A fleet-footed novel set in a vivid otherworld, richly peppered with scholarly tidbits. Huge fun—with serious underpinnings of history." —Jane Borodale, author of The Book of Fires