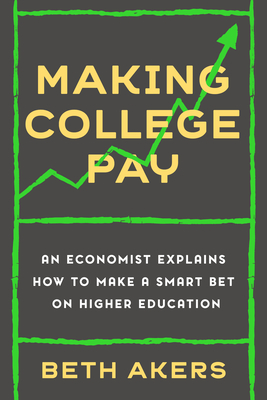 $25.00
Email or call for price
Description
---
A leading economist makes the case that college is still a smart investment, and reveals how to increase the odds of your degree paying off.

"Full of easy-to-understand advice grounded in deep expertise and research."—Martin West, William Henry Bloomberg Professor of Education, Harvard University

The cost of college makes for frightening headlines. The outstanding balance of student loans is more than $1.5 trillion nationally, while tuitions continue to rise. And on the heels of a pandemic that nearly dismantled the traditional college experience, we have to wonder: Is college really worth it?

From a financial perspective, says economist Beth Akers, the answer is yes. It's true that college is expensive, but once we see higher education for what it is—an investment in future opportunities, job security, and earnings—a different picture emerges: The average college graduate earns an additionalmillion dollars over their career (compared to those who stopped their education after high school), and on average, two- and four-year schools deliver a 15 percent return on investment—double that of the stock market. 

Yet these outcomes are not guaranteed. Rather, they hinge upon where and how you opt to invest your tuition dollars. Simply put, the real problem with college isn't the cost—it's the risk that your investment might not pay off.

In Making College Pay, Akers shows how to improve your odds by making smart choices about where to enroll, what to study, and how to pay for it. You'll learn
 
• why choosing the right major can matter more than where you enroll
• the best criteria for picking a school (hint: not price, selectivity or ranking)
• why working part-time while enrolled might set you back financially
• why it's often best to borrow, even if you don't have to
• the pros and cons of innovative alternatives to traditional college
• how to take advantage of new, low-risk financing tools
 
Full of practical advice for students and parents, Making College Pay reminds us that higher education remains an engine for opportunity, upward mobility, and prosperity.
About the Author
---
Beth Akers is a senior fellow at the Manhattan Institute and an expert in labor economics and the economics of higher education. Previously, she was a fellow at the Brookings Institution and a staff economist with the Council of Economic Advisers. Her work has been featured in The New York Times, USA Today, The Wall Street Journal, The Washington Post, Bloomberg, Quartz, Newsweek, and The Hill, and she has appeared on CNBC, ABC News, Bloomberg TV, and C-SPAN. Akers is the co-author of Game of Loans: The Rhetoric and Reality of Student Debt.
Praise For…
---
"A handy, brief, readable guide to selecting a college worth the cost . . . One of the most prominent voices in the student-debt debate . . . steps back from that debate to tell us how the current higher-ed system works and how students can navigate it. Her advice is invaluable, and students and parents should take heed."—National Review

"Written as a how-to guide for prospective college students to navigate risk-return tradeoffs as they pursue education beyond high school . . . But the book should also prompt the rest of us to reconsider how we talk about higher education."—Forbes

"The high cost of college is one of those worries that keep students and parents up at night. If you're one of them, Making College Pay will help you sleep a bit easier by showing that a college degree is one of the safest, smartest investments you can make in your future, or your child's. Full of easy-to-understand advice grounded in deep expertise and research, this is the rare book that will appeal to both parents and policy wonks alike."—Martin West, William Henry Bloomberg Professor of Education, Harvard University

"In practical terms, choosing to attend college and deciding how to pay for it can literally be a million-dollar investment decision. No aspiring student or parent should make such decisions without the wisdom found in Making College Pay."—Mitchell E. Daniels, Jr., president of Purdue University and former governor of Indiana

"Choosing a college and deciding how to pay for it are two of the biggest financial decisions of a lifetime. Too many people don't understand their choices and make bad decisions as a result. This book is the cure for that problem. Avoiding the 'on the one hand . . .' vice of many economists, Beth Akers offers a jargon-free, clearly written, and well-reasoned guide with very practical advice for young people and their parents about these important choices."—David Wessel, director of the Hutchins Center on Fiscal and Monetary Policy, Brookings Institution, and New York Times bestselling author of In Fed We Trust and Red Ink