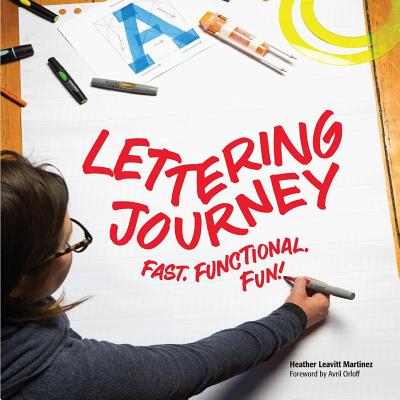 $19.95

Usually Ships in 1-5 Days
Description
---
Take an adventure to power up your lettering
Designed with the visual practitioner in mind, Lettering Journey is a how-to, exemplar book inspired by a cross country road trip and the letters found along the way. This practical guide gives you the freedom to be fast. It includes eight lettering styles that are designed to be learned quickly and used to letter with markers on paper in realtime in front of your client.

Each chapter of Lettering Journey starts with a short story of how the lettering style was inspired, a list of suggested markers to use, the best use of the style (when and where), and attributes of each style. Some styles include a ductus--showing the direction and order of each stroke, written at 100% and in grey so that you can see how the strokes join and cross. Each chapter includes examples by visual practitioners in the field and how they use these styles in their work. The book also includes foundational tips and best practices when lettering.
Heather Martinez, visual practitioner, Neuland Ambassador and lettering artist has shared her lettering tips at two International Forum of Visual Practitioner conferences (Austin and Washington, DC) and at Euviz Denmark. She travels and teaches worldwide and offers online courses at www.LetsLetterTogether.com.
Online resources including PDF downloads of templates and video tutorials are available.