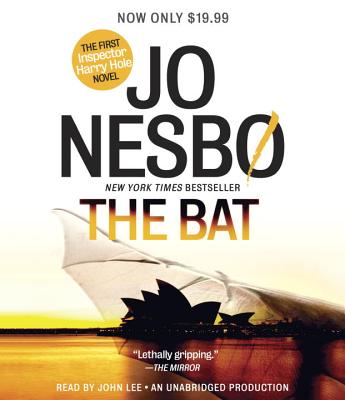 Email or call for price and availability
Description
---
The electrifying first installment of the Harry Hole series.
 
Inspector Harry Hole of the Oslo Crime Squad is dispatched to Sydney to observe a murder case.  Harry is free to offer assistance, but he has firm instructions to stay out of trouble. The victim is a twenty-three year old Norwegian woman who is a minor celebrity back home. Never one to sit on the sidelines, Harry befriends one of the lead detectives, and one of the witnesses, as he is drawn deeper into the case.  Together, they discover that this is only the latest in a string of unsolved murders, and the pattern points toward a psychopath working his way across the country. As they circle closer and closer to the killer, Harry begins to fear that no one is safe, least of all those investigating the case.
About the Author
---
Jo Nesbø is a musician, songwriter, and economist as well as a writer. His Harry Hole novels include The Redeemer, The Snowman, The Leopard, and Phantom, and he is also the author of several stand-alone novels and the Doctor Proctor series of children's books. He is the recipient of numerous awards, including the Glass Key for best Nordic crime novel. He lives in Oslo.

JOHN LEE's highly innovative work in the fields of emotional intelligence, anger management, and emotional regression has made him an in-demand consultant, teacher, trainer, coach, and speaker. His contributions in the fields of recovery, relationships, men's issues, spirituality, parenting, and creativity have put him in the national spotlight for over 20 years. Lee has been featured on Oprah, 20/20, Barbara Walters' The View, CNN, PBS, and NPR. He has been interviewed by Newsweek, the New York Times, the Los Angeles Times, and dozens of other national magazines and radio talk shows.For over 25 years, Lee has conducted private and group sessions on a variety of issues working with men, women, couples, and families. He lectures, gives workshops and trainings in cities all over the world, delivering sensitive, yet sophisticated material to audiences in a humorous and simple way everyone can understand. His lectures have been branded as "hilariously entertaining, deeply compassionate, yet filled with 'tell it like it is!'"Lee served as a professor at the University of Texas and at the University of Alabama before becoming a writer, bestselling author, life coach, and personal consultant. He currently resides on breathtaking Lookout Mountain in Mentone, Alabama with his three happy dogs.
Praise For…
---
NATIONAL BESTSELLER

A USA Today Critic's Pick

"This is an absolute must for devotees of the riveting train wreck that is Harry Hole. . . . While the chronological confusion is disconcerting, it adds a layer of dramatic irony to the tale and enhances its tension and power."
      —Booklist (starred review)
 
"Harry is already every bit as volcanic as in his later cases. The big difference is Australia, which Nesbø, seeing it through the eyes of both a tourist and a cultural pathologist, makes you wonder how much different it is from Norway after all."
     —Kirkus Reviews

"This debut effort shows Nesbø as an already confident genre craftsman, striking sparks from the familiar genre material of Harry's fish-out-of-water experience in a foreign land and odd-couple pairing with a mismatched partner."
     --Publishers Weekly

Advance praise from the U.K.

"Even with this first book Nesbø's command of the idiom is completely in place—there is absolutely no sense that the writer was finding his feet and aficionados will be very pleased to slide this on to their bookshelves alongside the other Harry Hole novels."
    --The Daily Express
 
"It is fantastic to see a younger Harry, a more loquacious Harry. . . . [Nesbø is] a terrific writer who knows how to build a story, taking you slowly to the top of a rollercoaster before sending you hurtling towards a solution that you never see coming."
    --Scottish Express
 
"Nesbø is already taking on the clichés, ruthlessly tearing them apart and coming up with new riffs. . . . Most satisfyingly, we can now see the organic shape that Nesbø always intended his work to take."
    --The Independent (London)