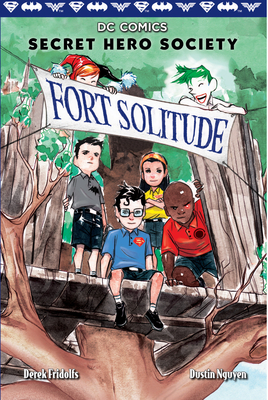 $12.99

Usually Ships in 1-5 Days
Other Books in Series
This is book number 2 in the DC Comics: Secret Hero Society series.
Description
---
Bruce Wayne, Clark Kent, and Diana Prince are back along with a lot of new friends as their Secret Hero Society goes to Spring Break Adventure Camp!The follow-up to the bestselling hit Study Hall of Justice! Clark Kent is thrilled when he receives an invite to a spring break academic retreat. After taking down the villains of Ducard Academy the previous year, going back to life on the farm was a bit dull. Better yet, his friends Bruce and Diana have been invited there, too! What better way to spend spring break than with old friends (Poison Ivy, Harley Quinn) and new ones like Arthur Curry (Aquaman), Barry Allen (the Flash), and Vic Stone (Cyborg)?When Clark arrives at Camp Evergreen he makes new friends, reconnects with old ones, and nothing seems weird at all! Well, that is until kids start disappearing... One by one... Plus, there's a lake monster, bigfoot has been spotted, there are reports of a boogeyman, and there may or may not be a UFO crashed into the lake. Clark, Bruce, and Diana will have to re-assemble the Junior Detective - er- Criminal Investigation Unit, in an all-new, supernatural adventure!
About the Author
---
Derek Fridolfs is a New York Times bestselling author. With Dustin Nguyen, he cowrote the Eisner-nominated Batman: Li'l Gotham. He's also written and worked on such comics series as Batman: Arkham City Endgame with Paul Dini, Detective Comics, Legends of the Dark Knight, Adventures of Superman, Sensation Comics Featuring Wonder Woman, Catwoman, Zatanna, JLA, Justice League Beyond, and comics based on the cartoons for Adventure Time, Regular Show, Clarence, Pig Goat Banana Cricket, Dexter's Laboratory, Teenage Mutant Ninja Turtles, Teen Titans Go, Looney Tunes, and Scooby-Doo Where Are You! He's written several chapter books for Capstone based on the Justice League.
Dustin Nguyen is a New York Times bestselling and Eisner Award-winning American comics creator. His body of work includes Batman: Li'l Gotham, which he cocreated, and numerous DC, Marvel, Dark Horse, and Boom! titles along with DC Comics Secret Hero Society and Image Comics' Descender and Ascender, both of which he cocreated. He lives in California with his wife, Nicole; their two kids, Bradley and Kaeli; and dog, Max. His first children's picture book, titled What Is It?, was written by his wife (at the age of 10) and is their first collaboration together. He enjoys sleeping and driving.