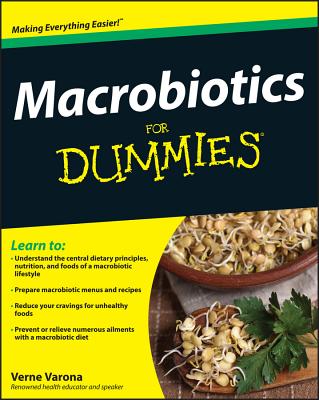 Email or call for price and availability
Description
---
Learn to:
Understand the central dietary principles, nutrition, and foods of a macrobiotic lifestyle
Prepare macrobiotic menus and recipes
Reduce your cravings for unhealthy foods
Prevent or relieve numerous ailments with a macrobiotic diet
The definitive guide to incorporating a macrobiotic diet into your daily life
Do you want to make the most of macrobiotics? This practical guide uses a body, mind, and spirit approach to introduce you to the basics of this popular diet. You'll see how to use macrobiotic principles to enhance your health and happiness; prepare the right foods to increase your energy and fight off disease; and make lifestyle changes to support your new way of eating.
Begin on the path to healthy living -- understand the science behind macrobiotics and how to apply the principles to your daily life
Heal the macrobiotic way -- discover the foods and nutrients that influence good health and heal common diseases
Plan for successful, non-stressful change -- create a macro-friendly kitchen, shop smart, and introduce new foods to the family diet
Make marvelous macrobiotic meals -- prepare delicious, easy-to-follow recipes from breakfast to dessert and plan your weekly menu
Take it on the road -- make healthy restaurant choices
Round out your macrobiotic lifestyle -- get tips for exercise, creating a more nourishing environment, and developing a self-healing personality
Open the book and find:
The basics of macrobiotic nutrition
How to marshal your body, mind, and spirit to renew your health
Ten tips for prompt, permanent weight loss
Practical ways to eliminate cravings for unhealthy food
More than 50 healthy, tasty recipes
Time-saving cooking techniques
Tips on managing your blood sugar with macrobiotic foods
The right tools and equipment to stock a healthy kitchen
A sample macrobiotic menu
About the Author
---
Verne Varona is one of the most energetic and dynamic health educators in the country. A nationally sought-after speaker, Varona has authored articles for natural publications such as Natural Health, Alternative Healing, Macrobiotics Today, and Healthy Body & Fitness, and is also the author of the bestselling Nature's Cancer-Fighting Foods.