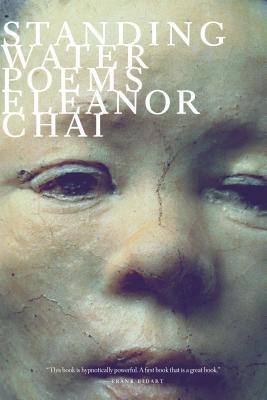 $14.00
Email or call for price
Description
---
A profound literary debut that recounts a child's singular story

Since I made you, you may
imagine I set myself on fire—
or better, say: you lit the funeral pyre
from ten thousand days away.
A young woman in Paris encounters an uncanny presence on a tour of a small museum. A study by Rodin of the dancer Little Hanako—titled Head of Sorrow—triggers in the young woman recognition of her mother, a mother erased from her life since childhood.
Thus begins Eleanor Chai's Standing Water, one of the most remarkable first books of poetry in recent years. It is a journey into the past as well as the present—into the narrative hidden from the poet since birth, as well as the strategies that she has adopted to survive. It is a journey about how we learn to cope with, to perceive and describe, the world. It is a story about savage privilege and deprivation.
Haunting the whole is the figure of the real Little Hanako—Rodin's model, a Japanese artist displaced in Europe, the medium through which other artists dream and discover the world.
About the Author
---
Eleanor Chai lives and works in Westport, Connecticut. She is the coeditor of Efforts of Affection: The Complete Correspondence of Elizabeth Bishop and Marianne Moore. Standing Water is her first collection of poetry.
Praise For…
---
NPR Best Books of 2016
"Eleanor Chai has a way of controlling cadence and then releasing energy in these poems, tactfully with sensuous care, like someone conducting the slow movement of a symphony. The last poems in the book are outstanding, chiseled and perfect, line by line by line. Standing Water is a great achievement."
—Colm Toibin
"The many poems of this book are one poem. We are given just enough narrative as we read to articulate a story, just as the book's central consciousness must find her way through a duplicitous, cruel but not entirely opaque world. We witness the making and breaking and remaking of the narrator's soul. This book is hypnotically powerful. A first book that is a great book."
—Frank Bidart
"In this haunting debut collection, through the totemic imagery of art and myth, Eleanor Chai creates a personal mythology of loss and longing rooted in a primal wounding: the separation of mother and child. With startling honesty these poems examine the subsequent wounds of grief and isolation from which something beautiful, like a lotus, can still grow. In Standing Water, a daughter's quest reflects our human need to know, and how what remains unspoken between a parent and child—all our silences—can leave us torqued in/love: conjoined and struggling."
—Natasha Trethewey
"I have just finished Standing Water and it is magnificent. Its smothered anger, its accusatory tone, its hurt, all palpable in various registers, creating an energy, finally, that is oddly positive and forgiving in character and that sets its own limits for recovery, dismissal and retention. A masterpiece."
—Mark Strand
"Chai's riveting first book, a poem cycle, fuses myth and memoir in a profoundly intricate and pensively elegant response to shocking revelations . . . A brilliantly formed, gracefully devastating poem sequence about the timeless struggle between men and women, the annihilation of innocence, and the alchemy of the self."
—Donna Seaman, Booklist (starred review)
"In [Standing Water], Chai confronts the specter of an absence—that of her mother, who was committed to a psychiatric facility shortly after Chai's birth . . . Chai finds some measure of peace, and though the void can never be overcome, the struggle unfurls as a beautiful catharsis—haunting, suffocating, and stunningly rendered."
—Publishers Weekly