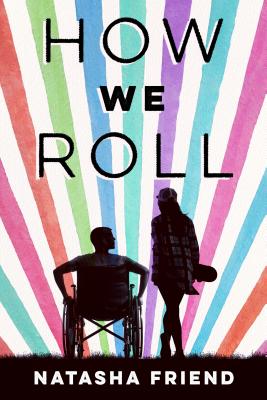 $17.99
Email or call for price.
Description
---
Quinn is a teen who loves her family, skateboarding, basketball, and her friends, but after she's diagnosed with a condition called alopecia which causes her to lose all of her hair, her friends abandon her. Jake was once a star football player, but because of a freak accident—caused by his brother—he loses both of his legs. Quinn and Jake meet and find the confidence to believe in themselves again, and maybe even love.
About the Author
---
Natasha Friend is the award-winning author of Where You'll Find Me, Perfect, Lush, Bounce, For Keeps, and My Life in Black and White. She lives in Madison, Connecticut, with her family.
Praise For…
---
"Friend has crafted a heartwarming story that tackles some heavy issues. It will appeal to teens who enjoyed The Running Dream by Wendelin Van Draanen, Paper Things by Jennifer Richard Jacobson, or The Fault in Our Stars by John Green. VERDICT A strong choice for all YA shelves."
—School Library Journal starred review

"In a story about the challenges of being different and the difficulty in learning to trust, Friend (The Other F Word) shows great sensitivity in depicting differently abled characters. Small acts of kindness balance the cruelty Quinn has suffered, and the message that single characteristics don't define who people are, invites contemplation."
—Publishers Weekly
"As Quinn and Nick's prickly relationship deepens, so do their characters; Friend's (The Other F-Word, 2017, etc.) attention to physical and emotional detail brings readers into their anxious, itchy skins as both learn to trust and forgive. Frank discussions of phantom pain and post-traumatic stress add nuance to Nick's bitterness. Alopecia support chats provide insight into Quinn's sense of isolation, worsened by Julius' demands on her parents . . . an unusual, uplifting take on self-discovery and starting over."
—Kirkus Review
"The novel sheds light on unusual but important issues and the effects they have on families. Quinn's fear and Nick's anger are equally genuine and moving. Friend cleverly finds the sweet spot in both characters to help them gain confidence and understanding in a world that neither believes cares about them."
—Booklist
"Friend does a great job of unpacking Quinn and Nick's emotional complexities, while also conveying the physical issues of both characters' losses. Readers will understand the challenges each character faces. Although both Quinn and Nick have bodies that are different from most other teens their age, this story is first about friendship and compassion, resulting in a sweet romance between two ninth graders who are learning about forgiveness and trying to trust other people again. Fans of problem novels who do not want a too-heavy-handed story will appreciate this sweet, unique story." —VOYA
"How We Roll is a lovely and affirming heart-warmer. Vivid, sympathetic characters propel a story about identity, friendship, forgiveness, and trust. Friend paints a picture of the stresses and strains on a family with a disabled child and how that disability impacts other siblings. Above all, Quinn's wry voice shines." —The Booklist Reader