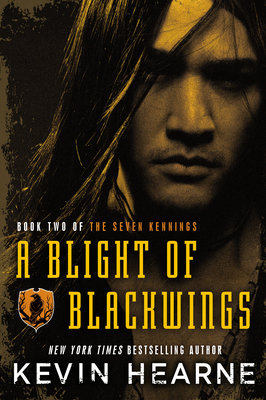 Other Books in Series
This is book number 2 in the The Seven Kennings series.
Description
---
From the New York Times bestselling creator of the Iron Druid Chronicles comes the highly anticipated sequel to A Plague of Giants: A world-breaking war—an invasion of giant warriors—inspires a movement to fight back.
 
SOLDIER AND AVENGER
Daryck is from a city that was devastated by the war with the Bone Giants, and now he and a band of warriors seek revenge against the giants for the loved ones they've lost. But will vengeance be enough to salve their grief?

DREAMER AND LEADER
Hanima is part of a new generation with extraordinary magical talents: She can speak to fantastical animals. But when this gift becomes a threat to the powers-that-be, Hanima becomes the leader of a movement to use this magic to bring power to the people.

SISTER AND SEEKER
Koesha is the captain of an all-female crew on a perilous voyage to explore unknown waters. Though her crew is seeking a path around the globe, Koesha is also looking for her sister, lost at sea two years ago. But what lies beyond the edges of the map is far more dangerous than storms and sea monsters. . . . 

In this sequel to A Plague of Giants, these characters and more will become the voices of a new generation bringing hope and revolution to a war-torn world.

Don't miss any of Kevin Hearne's action-packed Seven Kennings series
A PLAGUE OF GIANTS • A BLIGHT OF BLACKWINGS • A CURSE OF KRAKENS (Coming Later!)
About the Author
---
Kevin Hearne hugs trees, pets doggies, and rocks out to heavy metal. He also thinks tacos are a pretty nifty idea. He is the author of A Plague of Giants, Kill the Farm Boy (with Delilah S. Dawson), and the New York Times bestselling series The Iron Druid Chronicles.
Praise For…
---
Praise for A Bight of Blackwings

"So strong [that] it is very easy to become immersed . . . Kevin Hearne is continuing to prove how earned his reputation is as a storyteller at the top of his game who is continuing to push his storytelling skills to new heights. A Blight of Blackwings is an immensely entertaining, rewarding, and powerful novel."—SFFWorld
 
"Elements mesh perfectly, presenting an inventive, eye-filling panorama . . . that will leave readers impatiently awaiting the concluding volume."—Kirkus Reviews


Praise for A Plague of Giants

"A spectacular work of epic fantasy . . . A Plague of Giants is a roller coaster, a whirlwind and an absolute delight, and will leave fans of epic fantasy hungry for the next installment in the Seven Kennings series."—Shelf Awareness

"If you're looking for some entertainment before Game of Thrones returns to television, this could be the series you need to read."—Newsday

"There's a great deal of depth to this world, from its deep history, its magic, its characters and how they all come together rather organically. . . . The easiest and most apt comparison is to Patrick Rothfuss's Kingkiller Chronicle."—SFFWorld

"A genuine page-turner . . . vividly described, moves briskly, and features a splendid climax."—Kirkus Reviews

"Imbued with Kevin Hearne's phenomenal wit, charm, and originality."—Jason M. Hough, author of The Darwin Elevator

"You'll laugh and cry and crave mustard as you're immersed in the literal magic of storytelling in Kevin Hearne's vivid new epic fantasy. I don't want to leave this world."—Beth Cato, author of Breath of Earth and The Clockwork Dagger

"A Plague of Giants is an absorbing epic fantasy, with clever storytelling that allows its many threads to each feel important, personal, and memorable. I'm very much looking forward to the sequel!"—James Islington, author of The Shadow of What Was Lost