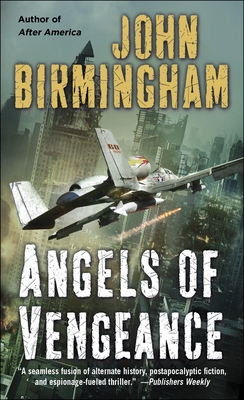 $7.99
Email or call for price
Other Books in Series
This is book number 3 in the The Disappearance series.
Description
---
"A seamless fusion of alternate history, postapocalyptic fiction, and espionage-fueled thriller."—Publishers Weekly

When an inexplicable wave of energy slams into North America, the world is plunged into turmoil—as wars erupt, borders vanish, and the great and powerful fall.

Against this dramatic backdrop, three very different women navigate the chaos. Deep in a South American jungle, special agent Caitlin Monroe will stop at nothing to discover how a master terrorist escaped a secret detention center in French Guadeloupe to strike a fatal blow in New York City. Sofia Peiraro, a grieving teenager trying to rebuild her life in Kansas City, is drawn back to Texas by a vicious murder. And in the fashionable bars and boutiques of Darwin, the seething, growing freeport in Australia's deep north, the British-born aristocrat-turned-smuggler Lady Julianne Balwyn hides a pistol in the small of her lovely back. She is hunting for the man who is hunting her. As these women fight for survival, justice, and revenge, humanity itself struggles toward its better angels—and to purge its worst demons.


"Birmingham knows how to write action. . . . I enjoy world building stories as well as post-apocalyptic tales. This is definitely a little of both."—Bill Lawhorn, SFRevu

"A rollicking ride . . . fast-paced and thought-provoking."—The Sun-Herald (Sydney, Australia)
About the Author
---
John Birmingham is the author of Angels of Vengeance, After America, Without Warning, Final Impact, Designated Targets, Weapons of Choice, and other novels, as well as Leviathan, which won the National Award for Nonfiction at Australia's Adelaide Festival of the Arts. He has written for The Sydney Morning Herald, Rolling Stone, Penthouse, Playboy, and numerous other magazines. He lives at the beach with his wife, daughter, son, and two cats.
Praise For…
---
"A seamless fusion of alternate history, postapocalyptic fiction, and espionage-fueled thriller."—Publishers Weekly

"Birmingham knows how to write action. . . . I enjoy world building stories as well as post-apocalyptic tales. This is definitely a little of both."—Bill Lawhorn, SFRevu

"A rollicking ride . . . fast-paced and thought-provoking."—The Sun-Herald (Sydney, Australia)