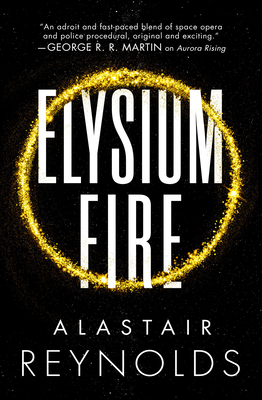 $16.99
Email or call for price.
Other Books in Series
This is book number 2 in the The Prefect Dreyfus Emergencies series.
Description
---
Elysium Fire is a smoldering tale of murderers, secret cultists, tampered memories, and unthinkable power, of bottomless corruption and overpowering idealism from the king of modern space opera.

Ten thousand city-state habitats orbit the planet Yellowstone, forming a near-perfect democratic human paradise.

But even utopia needs a police force. For the citizens of the Glitter Band that organization is Panoply, and the prefects are its operatives.

Prefect Tom Dreyfus has a new emergency on his hands. Across the habitats and their hundred million citizens, people are dying suddenly and randomly, victims of a bizarre and unprecedented malfunction of their neural implants. And these "melters" leave no clues behind as to the cause of their deaths. . .

As panic rises in the populace, a charismatic figure is sowing insurrection, convincing a small but growing number of habitats to break away from the Glitter Band and form their own independent colonies.
About the Author
---
Alastair Reynolds was born in Barry, South Wales, in 1966. He studied at Newcastle and St. Andrews Universities and has a Ph.D. in astronomy. he stopped working as an astrophysicist for the European Space Agency to become a full-time writer. Revelation Space and Pushing Ice were shortlisted for the Arthur C. Clarke Award; Revelation Space, Absolution Gap, Diamond Dogs, and Century Rain were shortlisted for the British Science Fiction Award, and Chasm City won the British Science Fiction Award.
Praise For…
---
"This novel's ideas are mind-stretching, including a limbo where copies of the dead can be kept and interrogated, and a chillingly mischievous AI that tempts and mocks Dreyfus. The big concepts and complex story effectively pull readers into intriguing speculation about human identity and potential."
—
Publishers Weekly
"Reynolds combines depth in characterization and dazzling hard-science applications to keep the reader turning pages."
—
Booklist
"
Elysium Fire
is a tremendously assured read, a fast-paced page-turner that delivers a well thought out story and characters you'll come to care about."—
The Guardian (UK)
"A swashbuckling thriller--
Pirates of the Caribbean
meets
Firefly
--that nevertheless combines the author's trademark hard SF with effective, coming-of-age characterization."—
The Guardian on Revenger
"
Revenger
is classic Reynolds-that is to say, top of the line science fiction, where characters are matched beautifully with ideas and have to find their place in a complex future. More!"—
Greg Bear on Revenger
"A leading light of the new British space opera."
—
Los Angeles Review of Books on Alastair Reynolds
"One of the giants of the new British space opera."
—
io9 on Alastair Reynolds
"[Reynolds is] a mastersinger of the space opera."
—
The Times (UK) on Blue Remembered Earth
"Heir to writers like Isaac Asimov and Arthur C. Clarke, Reynolds keeps up the tradition of forward thinking... An immensely thrilling, mind-bending piece of work."
—
AV Club on House of Suns
"[Reynolds] is the most gifted hard SF writers working today."
—
Publishers Weekly on Beyond the Aquila Rift