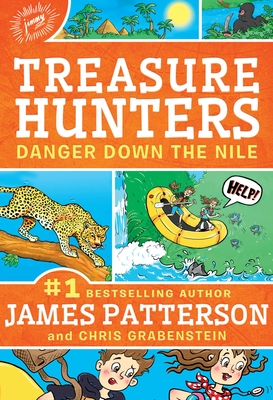 $14.99
Usually Ships in 1-5 Days
Other Books in Series
This is book number 2 in the Treasure Hunters series.
Description
---
The sequel to James Patterson's Treasure Hunters is another hilarious, hair-raising and highly-illustrated adventure for the First Family of Action!
Bick Kidd and his globe-trotting siblings Beck, Storm and Tommy may have completed their first treasure hunt after their father was lost at sea, but their kidnapped mother is still in the hands of nasty pirates. Their search for a rescue plan takes them down the Nile river in Africa, where they'll have to navigate everything from Egyptian pyramids in the desert to wet-and-wild jungles-not to mention life-threatening encounters with wilderness diseases, angry hippos and some seriously bad guys-in order to find the treasure and save the day.
About the Author
---
James Patterson has had more New York Times bestsellers than any other writer, ever, according to Guinness World Records. Since his first novel won the Edgar Award in 1977 James Patterson's books have sold more than 300 million copies. He is the author of the Alex Cross novels, the most popular detective series of the past twenty-five years, including Kiss the Girls and Along Came a Spider. He writes full-time and lives in Florida with his family.

Praise For…
---
Praise for Treasure Hunters: Danger Down the Nile:
A New York Times bestseller!
—
-
"Short chapters, copious illustrations, and a rollicking, nonstop plot....The fiercely loyal Kidds and a healthy dose of humor... make this fun-filled adventure series stand out.... It's hard to imagine the adventure-loving reader who wouldn't be hooked by this series."
—
Kirkus Reviews
"The second volume in the accessible Treasure Hunters series offers the same likable heroes, high-octane adventures, and pun-rich humor as the first. Literary popcorn and fun for young readers."
—
Booklist
Praise for the Treasure Hunters series:
A New York Times bestseller!
—
-
"This new series promises it all: ruthless pirates, CIA spies, terrorists, stolen works of art and priceless treasure. More important, it delivers. A high-seas adventure that will entice even the most confirmed of landlubbers."
—
Kirkus Reviews
"A frenetic sense of excitement and adventure permeates this nautical escapade... There's little time to breathe as the Kidds pinball from one spot of trouble to the next, making for a fun and fast-paced ride."
—
Publishers Weekly