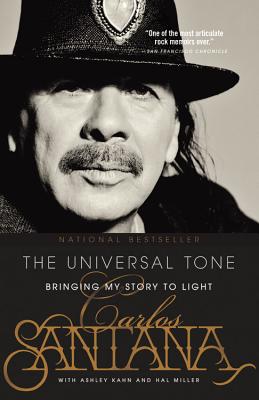 Description
---
"One of the most articulate rock memoirs ever." --San Francisco Chronicle

In 1967 at San Francisco's Fillmore Auditorium, a young guitarist played a blistering solo that announced a prodigious talent. Two years later he played a historic set at Woodstock, and the world came to know Carlos Santana by name.

THE UNIVERSAL TONE is a tale of musical self-determination and self-discovery. It traces his journey from his teen days playing in Tijuana, and the establishment of his signature guitar sound; his roles as husband, father, and rock star; and his recording of some of the most influential rock albums of all time. The book abounds with a fearlessness that finds humor in the world of high-flying fame, speaks plainly of personal revelations, and celebrates the divine and infinite possibility Santana sees in each person he meets.
About the Author
---
Carlos Santana was born in Mexico in 1947. He is a guitarist, songwriter, and founding member of Santana. He has recorded or appeared on more than ninety albums. He lives in Las Vegas with his wife, the drummer Cindy Blackman.
Praise For…
---
One of NPR's Best Books of 2014

"One of the most articulate rock memoirs ever."—Felix Contreras, co-host of NPR's Alt.Latino, "NPR's Best Books of 2014"

"In this frank and impassioned memoir, iconic, influential musician Santana, 67, known for fusing rock and Latin rhythms, weaves together the rhythmic, domestic and spiritual dimensions of his career. Generously reflective and well-balanced.... Charismatic and soulful.... An appreciative and unpretentious chronicle, this is required reading for Santana fans and devotees of classic rock legends."—Kirkus Reviews (starred review)

"The Rock and Roll Hall of Fame guitarist's book is perhaps the most musically generous of the fall's memoirs. Santana doesn't pull punches...."—Brian Mansfield, USA Today

"Santana [writes] with the same searing intensity and blatant honesty displayed throughout his 45-year career in music.... The Universal Tone is a book examining a lifelong quest for knowledge and some sense of divinity... Santana deals with both in the same unflinchingly honest and dignified tone."—Jeff Miers, The Buffalo News

"The Universal Tone doesn't follow the usual well-trodden path of other rock star tell-alls... Santana sidesteps salaciousness for spirituality while taking readers through the touchstone moments of his remarkable life and career."

"A compelling and uplifting journey through his life and career."—Joe Bosso, Music Radar

"Entertaining and enlightening.... Santana's journey from obscurity and abject poverty to affluence and superstardom is expressed eloquently via an informal conversational style that captures the cadences of his speaking voice."—Charles Waring, MOJO Magazine

"Universal Tone is every bit as tantalizing, succulent, and satisfying as the cactus fruit, roasted peanuts, and carne asada the author savored as a boy. And the sense memories peppering its pages are as frequent and visceral as the notes comprising his best guitar solos. Carlos doesn't merely tell us about his past; he lets us hear, smell, and taste it, too."—Peter Roche, Cleveland Music Examiner

"Passion, soul, and that elusive thing called sabor come through the music of Carlos Santana. His is always a surprising sound, ahead of its time -- true world music before the term was even invented, but uniquely American in its multicultural reach....Santana is an artist who transcends musical genres and touches the heart across all generations." -- The Kennedy Center

"One of rock's true virtuosos and guiding lights." -- Rock and Roll Hall of Fame

"A thread runs through his multicultural, crossgenerational music: the unifying power of the human spirit." -- John Roos, Los Angeles Times