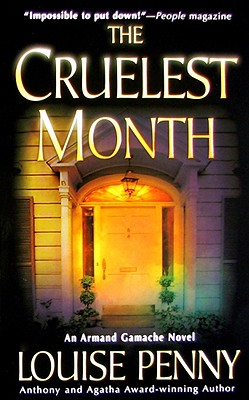 $7.99
Email or call for price.
Description
---
When a group of villagers decide to celebrate Easter with a séance at the Old Hadley House, they are hoping to rid the town of its evil—until one of their party dies of fright. Was this a natural death? Or was the victim somehow helped along?
Enter Chief Inspector Armand Gamache. He knows evil when he sees it. But this time, he's investigating a case that will force him to face his very own ghosts...as well as those residing in this seemingly idyllic town. Are the residents of Three Pines hiding something great and sinister about their past? Or is April about to deliver on its fateful threat?
About the Author
---
LOUISE PENNY is "The" "New York Times "and" ""Globe and Mail "bestselling author of seven novels featuring Chief Inspector Armand Gamache." "Her debut, "Still Life," won the John Creasey Dagger and the Arthur Ellis, Barry, Anthony, and Dilys Awards, and was named one of the five Mystery/Crime Novels of the Decade by "Deadly Pleasures" magazine. Penny was the first author ever to win the Agatha Award for Best Novel four times--for "A Fatal Grace, The Cruelest Month, " "The Brutal Telling ("which also received the Anthony Award for Best Novel), and "Bury Your Dead" (which also won the Dilys, Arthur Ellis, Anthony, Macavity, and Nero Awards). She lives in a small village south of Montreal.
Praise For…
---
"Certain books come to mind whenever that little voice whispers in your ear 'Oh, lighten up!'… Louise Penny's series about the eccentric residents of a postcard-perfect town in Canada can…be pretty funny."—Marilyn Stasio, The New York Times
"Who wouldn't be charmed by the dramas of [the Three Pines] community…? Yet it is Penny's fastidious, cultured, and smart Inspector Gamache who makes The Cruelest Month impossible to put down."—People magazine (3 1/2 stars)
"Perhaps the deftest talent to arrive since Minette Walters, Penny produces what many have tried but few have mastered: a psychologically acute cozy. If you don't give your heart to Gamache, you may have no heart to give."—Kirkus Review (starred review)
"How much do I love [this] series? So much that I don't merely crave the next installment—I want to live in Three Pines… Let Penny takes exquisite care to create, flesh out, and nurture the relationships in the village and on the police force. I will just have to sulk in the suburbs until she writes the next one."—Cleveland Plain Dealer
"The thing about the Gamache novels is that while the crimes are intriguing...Gamache [is] completely original."—Booklist
"Gamache is an engaging, modern-day Poirot...entertaining and thought-provoking."—Library Journal (starred review)
"Expertly plotted."—Publishers Weekly
"A charming oasis for the spirit...quirky and literate. Move over, Mitford."—Charlotte Observer
"Rich characterizations, a credible plotline, and an increasingly likable protagonist in Gamache. Add [Penny's] compassion, grace, and wisdom, and readers will rejoice in the latest entry in this stylish and sensitive series."—Richmond Times Dispatch
"If you aren't familiar with…Gamache and the charming town of Three Pines, you are missing something wonderful in the world of mystery fiction."—Omaha World-Herald