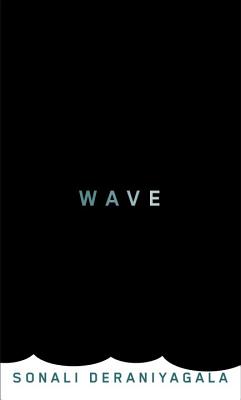 Email or call for price and availability
Description
---
One of The New York Times Book Review's 10 Best Books of the Year

On the morning of December 26, 2004, on the southern coast of Sri Lanka, Sonali Deraniyagala lost her parents, her husband, and her two young sons in the tsunami she miraculously survived. In this brave and searingly frank memoir, she describes those first horrifying moments and her long journey since. She has written an engrossing, unsentimental, beautifully poised account: as she struggles through the first months following the tragedy, furiously clenched against a reality that she cannot face and cannot deny; and then, over the ensuing years, as she emerges reluctantly, slowly allowing her memory to take her back through the rich and joyous life she's mourning, from her family's home in London, to the birth of her children, to the year she met her English husband at Cambridge, to her childhood in Colombo; all the while learning the difficult balance between the almost unbearable reminders of her loss and the need to keep her family, somehow, still alive within her.
About the Author
---
Sonali Deraniyagala teaches in the Department of Economics at the School of Oriental and African Studies, University of London.  She is currently a visiting research scholar at the School of International and Public Affairs at Columbia University, New York, working on issues of economic development, including post-disaster recovery.
Praise For…
---
"The most exceptional book about grief I've ever read . . . I didn't feel as if I was going to cry while reading Wave. I felt as if my heart might stop . . . Deraniyagala has fearlessly delivered on memoir's greatest promise: to tell it like it is, no matter the cost. The result is an unforgettable book that isn't only as unsparing as they come, but also defiantly flooded with light . . . Extraordinary." --Cheryl Strayed, New York Times Book Review
 
"An amazing, beautiful book." --Joan Didion, author of The Year of Magical Thinking

"Radiant . . . The extremity of Deraniyagala's story seizes the attention, but it's the beauty of how she expresses it that makes it indelible . . . [She is] a writer of such extraordinary gifts . . . Wave is a small, slender book, but it is enormous on the inside." —Salon

"Heart-stopping . . . A stunning memoir of grief . . . Wave contains some of the best, most affecting writing about love and family that I have ever read . . . It is also wholly sui generis. I couldn't recommend it more highly." --Sunday Times (UK)
 
"Although for much of the book, we are privileged to be with her as she conjures and re-conjures her joyous family, what emerges from this wizardry most clearly is, of course, Deraniyagala herself--carrying within her present life another gorgeously remembered one." --San Francisco Chronicle
 
"Unforgettable . . . It is a miracle Deraniyagala lived. The fact that she could write such a memoir, bringing those she loved to life so completely that they breathe on the page, is itself a miracle." --Vanity Fair

"Wave is a haunting chronicle of love and horrifying loss. The heartfelt writing manages to render the absence of the loved ones--the void, and the pain of it--in such a beautiful way that what was lost emerges as a new life form, one whose flesh and sinew are memory, sorrow, and undying love." --Abraham Verghese, author of Cutting for Stone

"Courageous, truthful and, above all, generous . . . What amazed me most about the book is what good company it is. Deraniyagala is accepting and tender in her record of grief . . . Wave is in fact full of persisting life." --Globe & Mail (Canada)
 
"Immeasurably potent . . . Relentless in its explication of grief, this massively courageous, tenaciously unsentimental chronicle of unthinkable loss and incremental recovery explodes--and then expands--our notion of what love really means." --More magazine

"An indelible and unique story of loss and resolution written with breathtaking refinement and courage . . . In rinsed-clear language, Deraniyagala describes her ordeal, surreal rescue, and deep shock, attaining a Didionesque clarity and power. We hold tight to every exquisite sentence as, with astounding candor and precision, she tracks subsequent waves of grief . . . But here, too, are sustaining tides of memories that enable her to vividly, even joyfully, portray her loved ones." --Booklist

"Out of unimaginable loss comes an unimaginably powerful book. Wave is unflinching as it charts the depths of grief, but it's also, miraculously, a beautifully detailed meditation on the essence of happiness. I came away from this stunning book with a new appreciation of life's daily gifts. I urge you to read Wave. You will not be the same person after you've finished." --Will Schwalbe, author of The End of Your Life Book Club
 
"The most powerful and haunting book I have read in years . . . Sonali Deraniyagala has brought back to life in this stunning memoir all those she lost, so much so that we will never forget them or their lives." --Michael Ondaatje, author of The English Patient

"Both heartbreaking and astonishingly beautiful." --New York Post
 
"A devastating but ultimately redemptive memoir . . . The craft and control reflect an exceptional literary command . . . Excellent. Reading Deraniyagala's account proves almost as cathartic as writing it must have been." --Kirkus Reviews (starred)

"Deraniyagala has written a book teaming with beautiful ruminations on the bittersweetness of memory and the precariousness of life." --Publishers Weekly (starred review)

"Rarely are we given a story of such narrative force and poetic simplicity . . . Being spared, Deraniyagala seems doomed to spare herself nothing. Wave is a beautiful offering to readers. Bravissima." --Mary Karr, author of Lit

"In short, declarative, unbearable sentences, Deraniyagala takes us through her grief like a tour guide into a country no one chooses to visit. . . . Art as powerful as a planetary vibration." --Joanna Connors, The Plain Dealer 

"Beautiful and ravaging . . . faultless prose." --Laura Wadley, The Daily Herald
 
"As beautifully written as it is raw, Sonali Deraniyagala's Wave is an impossible book to forget because it exists on the razor's edge between before and after." --Miwa Messer, Everyday Ebook



Coverage from NPR