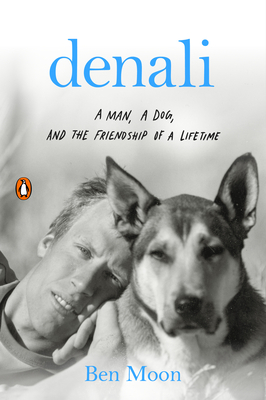 Description
---
"....a very sweet dog story" -- Outside

The story of a dog, his human, and the friendship that saved both of their lives.

When Ben Moon moved from the Midwest to Oregon, he hadn't planned on getting a dog. But when he first met the soulful gaze of a rescue pup in a shelter, Ben instantly felt a connection, and his friendship with Denali was born. The two of them set out on the road together, on an adventure that would take them across the American west and through some of the best years of their lives. But when Ben was diagnosed with colorectal cancer at age 29, he faced a difficult battle with the disease, and Denali never once left his side until they were back out surfing and climbing crags. It was only a short time later that Denali was struck by the same disease, and Ben had the chance to return the favor. Denali is the story of this powerful friendship that shaped Ben and Denali's lives, showing the strength and love that we give and receive when we have our friends by our side.
About the Author
---
Ben Moon is an adventure and lifestyle photographer turned director and filmmaker who uses his intuitive sensibilities to bring individuals and their stories to life: from climbing and surfing images, to music videos, to behind-the-scenes moments and narratives. For more than seventeen years his work has been featured in the esteemed Patagonia catalogs, where he seeks to capture the beauty and authenticity of people challenging themselves everywhere, from the sheer rock walls of Yosemite to fifty-foot waves in the Pacific Northwest.

Because Ben is also a rock climber, surfer, and adventurer, his insights into the subjects he photographs are tangible. He takes this ability to connect with others a step further in his ongoing black-and-white portrait project called Faces, in which each individual's inner beauty is revealed in a disarming and intimate manner.

Founded in 2014, his production company, Moonhouse, is a platform for collaborating with friends and other creatives who similarly want to bring thoughtful stories to life on-screen. The 2015 short film Denali, told Ben's own deeply personal story about his battle with colorectal cancer and his relationship with his beloved dog Denali, who passed away from cancer a decade after Ben recovered from the. The film continues to touch new audiences online and at film festivals worldwide. Another short, Grizzly Country, documents the ecowarrior and grizzly bear activist Doug Peacock. Ben's most recent short films include Offseason, which features his close friend Daniel Norris, an ace lefty pitcher for the Detroit Tigers, who lives in his van in the off-season and who hopes to inspire others to slow down and live more simply.

Ben now lives in Pacific City, Oregon, where he explores the nearby dunes of Cape Kiwanda and shores of the Pacific Ocean with his pup, Nori, who has strikingly similar facial markings to Denali, and shares many of his finer personality traits.
Praise For…
---
"Moon writes with a straightforward, engaging style...unflinching but often hilarious...This is life as it should be lived: with a dog at your side, chasing adventure, ever-cognizant of the brevity of our time here and the pricelessness of unconditional love." —Climbing

"If you thought that Marley & Me needed more surfing and rock climbing, then you're in luck." —Men's Journal

"Photographer and filmmaker Moon explores his relationship with his dog and their special bond forged during life and death moments in this moving debut...Moon inspires and educates in this tearjerking memoir of his best friend."  —Publisher's Weekly

"...Moon doesn't tiptoe around his struggles with depression and anxiety, the dissolution of his marriage not long after he adopted Denali, or the confusing, frightening experience of being diagnosed with a type of cancer that's so rare in young men that they often don't get tested for it." -- Outside