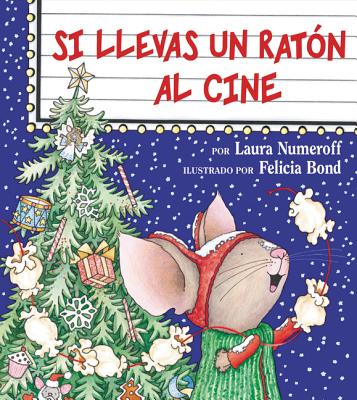 $16.99
Email or call for price
Description
---
El pequeño y travieso ratoncito de Si le das una galletita a un ratón regresa con sus típicas travesuras para deleitarnos durante las fiestas de Navidad.
Si llevas un ratón al cine, te pedirá palomitas de maíz. Una vez que le des las palomitas de maíz, querrá hacer una guirnalda con ellas. Luego, querrá colgarla en un árbol de Navidad. Tendrás que comprarle uno...
Laura Numeroff y Felicia Bond han vuelto a crear otro cuento irresistible en la tradición de los ya reconocidos SSi le das una galletita a un ratón, Si le das un panecillo a un alce y Si le das un panqueque a una verdita
Mouse celebrates the holidays in this picture book in the beloved #1 New York Times bestselling If You Give... series!
If you take a mouse to the movies, he'll ask you for some popcorn. If you give him the popcorn, he'll want to string it all together. Then he'll want to hang it on a Christmas tree.
The famous little mouse from If You Give a Mouse a Cookie that has delighted millions of readers is back in an irresistible tale full of holiday antics.
Collect all the books in this giggle-inspiring classic series!
About the Author
---
Laura Numeroff is the New York Times bestselling author of many books for young readers in addition to the If You Give…series, including The Chicken Sisters and Laura Numeroff's 10-Step Guide to Living with Your Monster. She lives in Los Angeles, California, and is involved with several children's charities, including First Book. You can visit her online at www.lauranumeroff.com.
Felicia Bond is both writer and illustrator of Tumble Bumble, The Day It Rained Hearts, the Poinsettia books, and many others. She painted the art for numerous other award-winning books, including those in the much loved If You Give . . . series and the contemporary classic Big Red Barn. She lived for many years in New York and currently lives in Santa Fe, New Mexico.