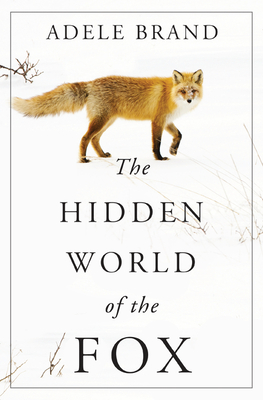 $24.99
Email or call for price.
Description
---
Discover the hidden world of the fox, as beautifully revealed by an acclaimed ecologist who has studied foxes for two decades across four continents 

"An ode to this familiar yet mysterious creature. … The sight of foxes can lift Brand's prose into poetry. ... By turns lyrical, salty, funny and scholarly." —New York Times Book Review
The fox. For thousands of years myth and folklore have celebrated its cunning intelligence. Today the red fox is the nature's most populous carnivore, its dancing orange tail a common sight in backyards. Yet who is this wild neighbor, truly? How do we negotiate this uneasy new chapter of an ancient relationship? Join British ecologist Adele Brand on a journey to discover the surprising secrets of the fabled fox, the familiar yet enigmatic creature that has adapted to the human world with astonishing—some say, unsettling—success.
Brand has studied foxes for twenty years across four continents—from the Yucatán rainforest to India's remote Thar Desert, from subarctic Canada to metropolitan London. Her observations have convinced her that the fox is arguably the most modern of all wildlife, uniquely suited to survival in the rapidly expanding urban/wild interface. Blending cutting-edge science, cultural anthropology, and intimate personal storytelling drawn from her own remarkable fieldwork, The Hidden World of the Fox is Brand's rich and revelatory portrait of the extraordinary animal she has devoted her life to understanding.
About the Author
---
ADELE BRAND met her first fox as a child in England's Surrey Hills, a fragile border between urban London and the rural southeast. Now a mammal ecologist, she has led research in five countries. She is passionate about connecting people with wildlife.
Praise For…
---
"By turns lyrical, salty, funny and scholarly. … The sight of foxes can lift [Brand's] prose into poetry. … [An] ode to this familiar yet mysterious creature."
— New York Times Book Review

"A lovely little book. Quietly lyrical, often funny. [An] ideal stocking filler."
— Sunday Times (London)

"Brand has studied foxes on four different continents for 20 years. She shares her observations and the history of an animal remarkably adaptable to human environments."
— Los Angeles Times, "New and Classic Books to Keep You in Touch with the Natural World"

"Beautifully written. … Eminent British mammal ecologist Brand pens a tribute to the red fox."
— Library Journal

"Mammal ecologist Brand offers a spirited look at the red fox in this smart and accessible volume. ... Thanks to her mix of biology, personal history, and pop culture, Brand's readers will be left both entertained and better informed about 'this small, curious member of the dog family.'"
— Publishers Weekly

"Succinct, clear, sophisticated. I couldn't stop reading."
— Jeff VanderMeer, bestselling author of Annihilation and the Southern Reach Trilogy

"Provides everything you ever wanted to know about the fox."
— Kirkus Reviews

"This charming book leads us into the lives of red foxes. . … Brand paints a wonderful picture of a wild neighbor."
— Booklist