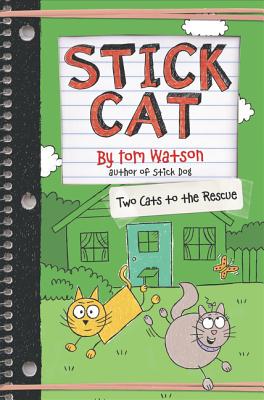 $12.99

Usually Ships in 1-5 Days
Other Books in Series
This is book number 5 in the Stick Cat series.
Description
---
Perfect for fans of Big Nate, Diary of a Wimpy Kid, and the Stick Dog books, Tom Watson's hilarious series continues with Stick Cat: Two Cats to the Rescue—a backyard adventure involving a curious baby, two daring cats, and a pack of hungry pups!
Millie needs Stick Cat's help.
When little Millie wanders off, Stick Cat needs to get her back. It's a rescue mission with too many obstacles to count. There's a runaway butterfly, a pole-vaulting adventure, and a growling beast in the woods. Yikes.
And, of course, there's Edith. Oh, Edith. 
Will Stick Cat be able to navigate around her wacky plans, fragile ego and peculiar ways? Just when he's doubting his chances, five familiar dogs burst onto the scene to help this rescue mission succeed.
Fans of the Stick Dog series and other quick, funny reads will delight in this funny, furry, feline fracas. Stick Cat is ready to go!
Check out Stick Cat and Edith in these other adventures:
Stick Cat: A Tail of Two Kitties
Stick Cat: Cats in the City
Stick Cat: Two Catch a Thief
Stick Cat: Two Cats and a Baby
About the Author
---
Tom Watson lives in Chicago with his wife, daughter, and son. He also has a dog, as you could probably guess. The dog is a Labrador-Newfoundland mix. Tom says he looks like a Labrador with a bad perm. He wanted to name the dog "Put Your Shirt On" (please don't ask why), but he was outvoted by his family. The dog's name is Shadow. Early in his career Tom worked in politics, including a stint as the chief speechwriter for the governor of Ohio. This experience helped him develop the unique, storytelling narrative style of the Stick Dog books. More important, Tom's time in politics made him realize a very important thing: Kids are way smarter than adults. And it's a lot more fun and rewarding to write stories for them than to write speeches for grown-ups.